Whether you've planned it this way or it's an unexpected "surprise", getting married while pregnant is a little challenging. But don't worry, it's not insurmountable ... if you follow the advice of our experienced wedding planners.
The 2022 season is not yet over, but this year, rich in beautiful moments, has given us five rather special weddings... Indeed, our brides were pregnant when they said Yes!
And we can assure you, the emotion and the glitter were there.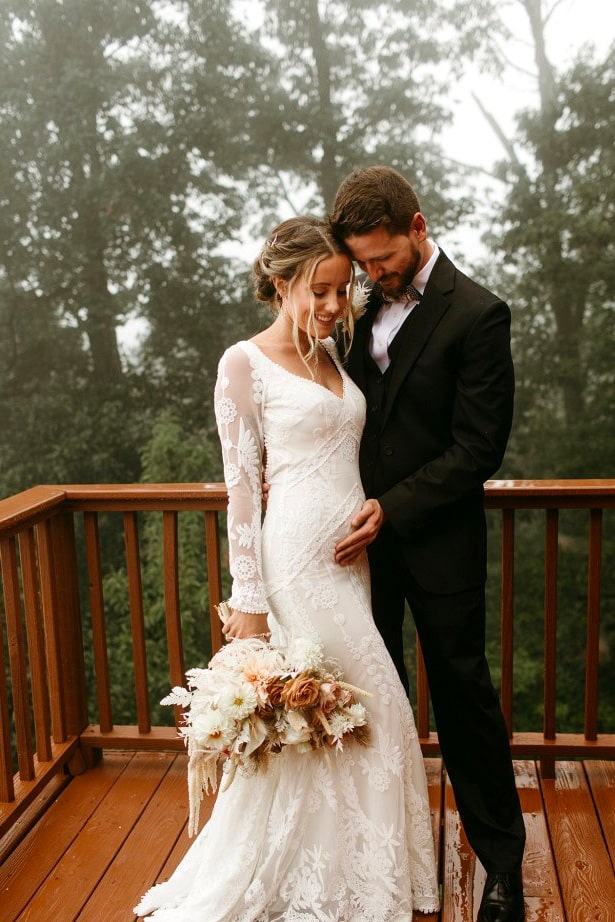 source image : swankywedding.com
Although sometimes accompanied by its share of constraints, pregnancy is also a real gift. And our brides have experienced their marriage all the more intensely. We know that during these 9 months, the bond between mother and child is very strong. If mother experiences an intense emotion, baby feels it. What could be more wonderful then than to enjoy a day full of love with him.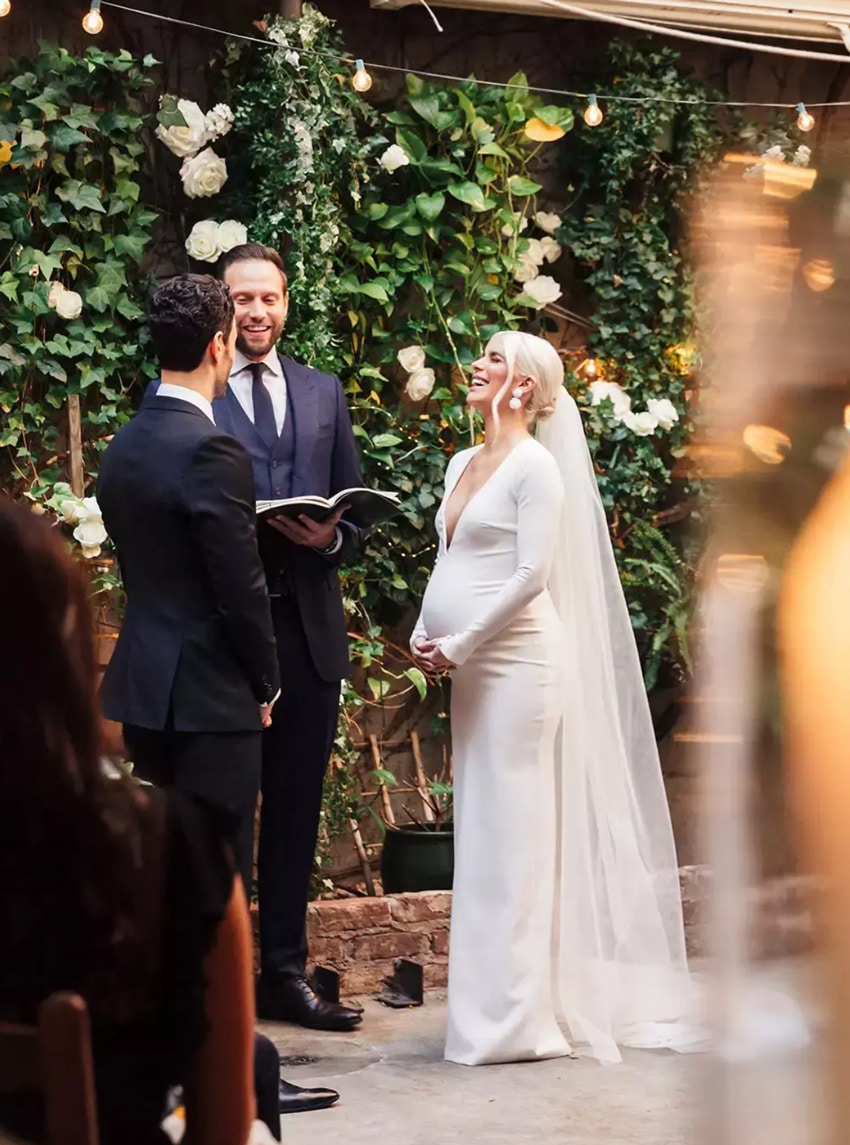 source image : hitched.co.uk
Do's and don'ts for getting married while pregnant
Have you just found out you're pregnant and have you already scheduled your wedding? Have you always dreamed of proudly wearing a lovely, bouncing belly in your wedding outfit? Whatever the reasons, you will be saying "I do" with a growing child inside you. It's a wonderful adventure that awaits you. But beware, there are some things you should avoid if you want this day to go smoothly.
Trying to tick all the boxes
Did you promise your grandmother you would wear a corseted dress? Is it polite to stand for the whole ceremony? A dress without high heels will be inelegant? STOP! Don't restrict yourself by thinking of others or the "rules of the road".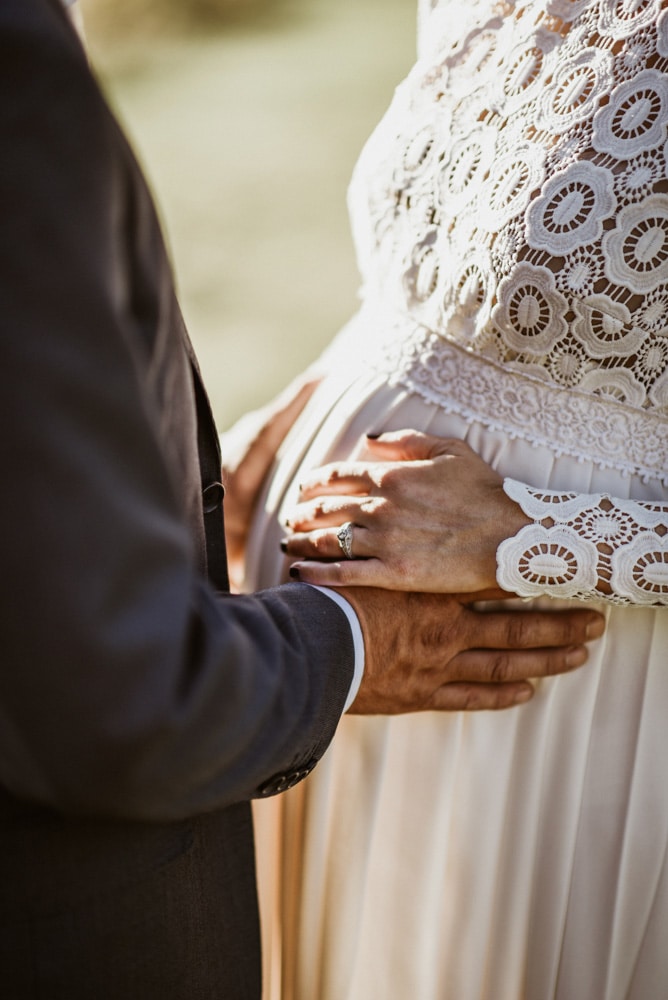 source image : wearetherowlands.com
We give this advice to all our future brides and grooms. You get married for yourself! Not to please the people around you. If you live this day the way YOU want to, you will be happy. And if you are happy, everyone else will have the most wonderful day.
In this case, getting married while pregnant, this is even more true. Not only do you have to think about what you want, but also about your comfort. From the choice of outfit to the way the evening unfolds, everything should be thought of to to make both mum and baby feel comfortable at all times. Slip on some trainers under your lace dress if it makes you feel more comfortable all day. Give yourself some 'quiet' time during the day, for example with your partner. And if you don't dance the night away, don't feel guilty! Your guests will do it for you and you will find them the next day in great shape for the rest of the festivities.
Ignore the date
Getting married while pregnant is a big yes! but not at any time. In fact, it is better to avoid certain periods. The first trimester is one of them. You probably know the famous, almost magical passage from the 3rd to the 4th month that pregnant women wait for impatiently. As if by magic, the nausea and other joys of the first trimester disappear and are replaced by a period of blossoming. Of course, each woman and each pregnancy is unique. Some women will experience their first trimester to the fullest without any discomfort, while others will experience it for some time longer. But as a precaution, we advise you to plan your wedding date after the third month. This will reduce the risk of you feeling overtired during the day.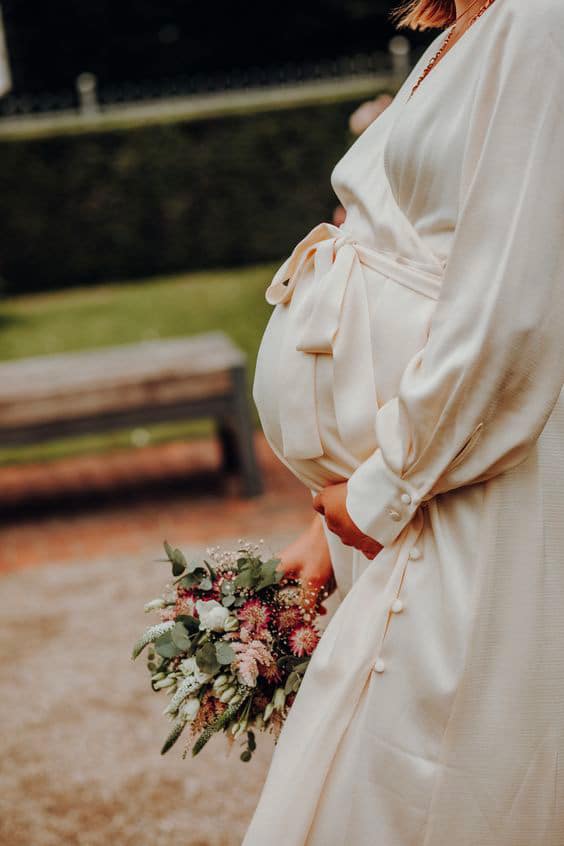 source image : vd-creative.de
The last 2 months are also a more complex period. First of all for the obvious reason that the arrival of the baby is getting closer. Even if giving birth on your wedding day would undoubtedly make it unforgettable for everyone ... for purely "logistical" reasons, we would say, it does not seem the most appropriate.
On the other hand, the more advanced the pregnancy, the more new little constraints appear. A few weeks before the end of the pregnancy, simple things like tying your shoes can become more complex. You will have to walk, sit and stand up many times during the day. The closer you are to term, the more effort it will take.
The period between the 4th and 7th month of pregnancy seems to us to be the most appropriate time to get married while pregnant. You will be able to enjoy the joys of your big day and share your strong emotions with your little one in complete serenity.
The right outfit for a pregnant bride
There is one crucial point that often frightens brides-to-be who learn of their pregnancy during their preparations. The choice of dress. We sometimes project ourselves years before the big day in our princess dress. This change of direction (when pregnancy is a "surprise guest") can be unsettling.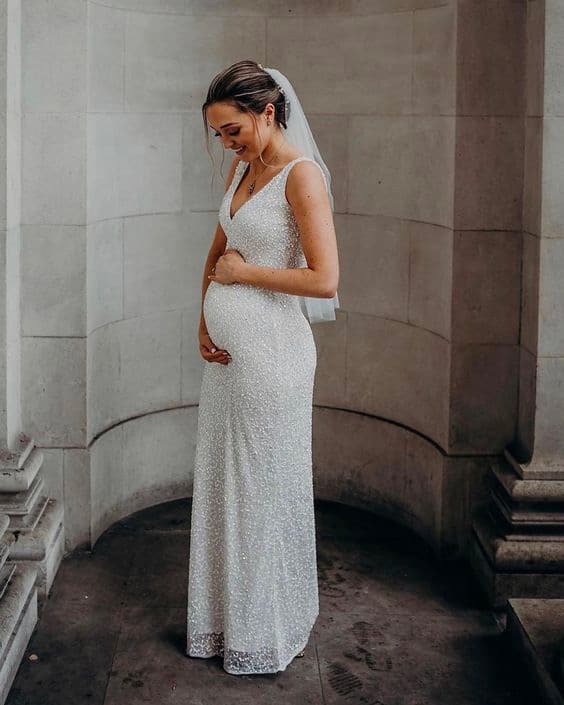 source image : pinterest
But don't worry, there are many talented brands and designers today that offer maternity styles. And some "classic" dresses can also be suitable. Obviously, the mermaid model will be the least suitable for this new morphology. But an Empire size dress could be totally suitable, without being a "maternity" model. And why not play the originality card with a top + petticoat set? You can choose the latter with an elastic waistband for comfort, while the top will discreetly show your rounded belly. Whatever your style, here is a small selection of our favourites for getting married while pregnant.
Modèle SARA-Kaa couture
We like : the delicate mix of lace and satin and the sobriety of the model. The delicate and light sleeves.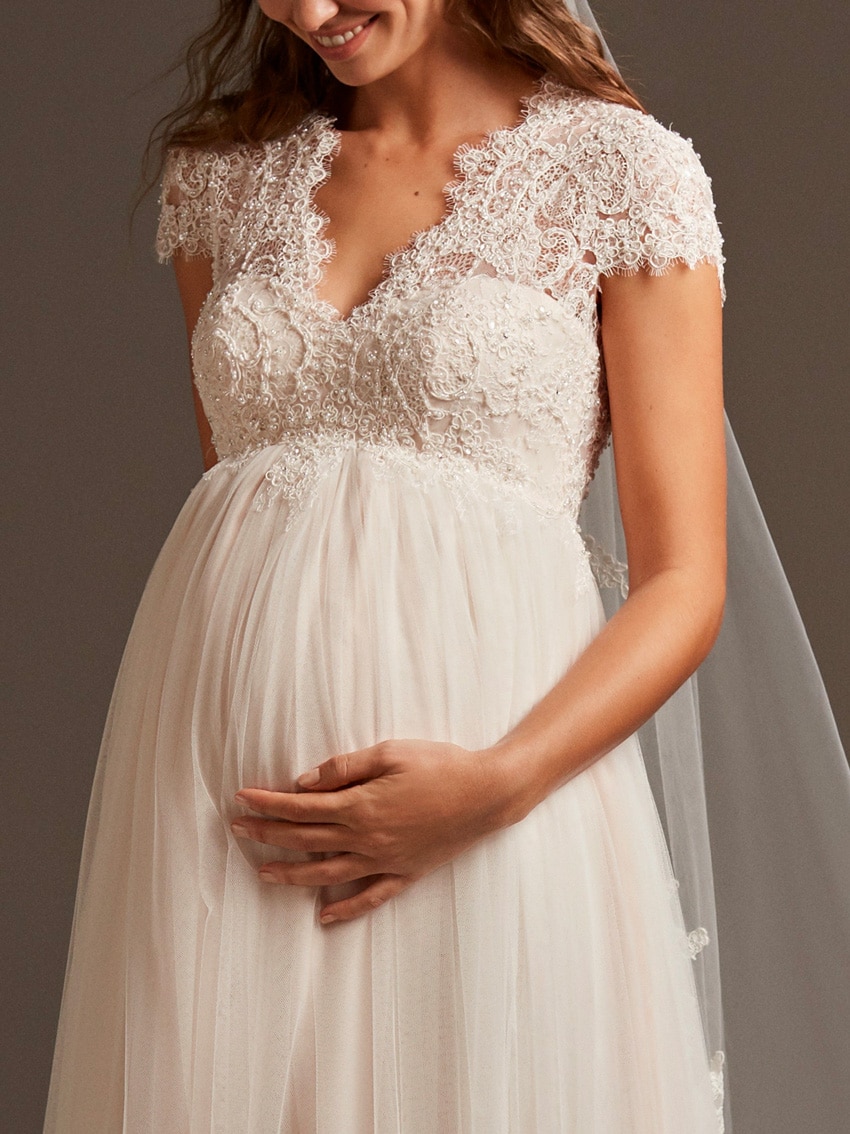 Modèle Lucky Star – Pronovias
We like : the chic lace and the fluidity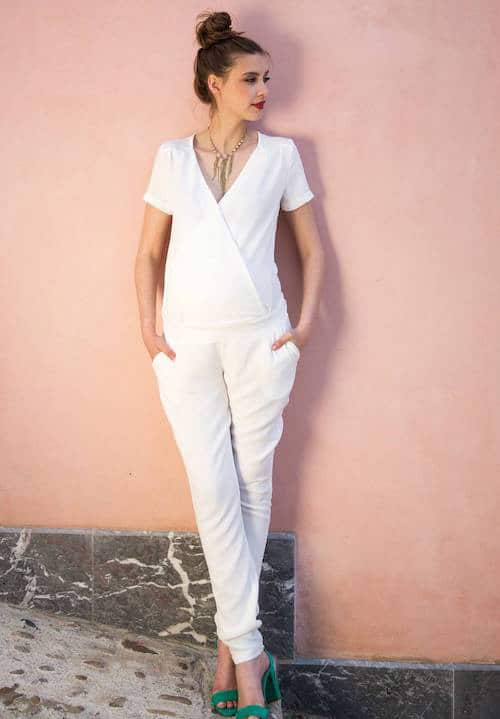 Modèle Pénélope – Envie de Fraise
We like: the dynamic and modern shape of the combination
Modèle Robe longue – Seraphine
We like: the softness of the silk and the lace shoulders
Our last piece of advice: relieve your to-do list by calling on a wedding planner. Our primary mission is to offer you total serenity. We advise all future brides and grooms to be be helped in their preparations by a team of professionalsBut this advice is all the more relevant when you want to get married while pregnant. By using our services, you can concentrate on the essentials... and take advantage of our exclusive privileges to be pampered. Everything you dream of during pregnancy!