In every domain of the preparation of a Wedding Day, trends evolve. Tendencies concerning wedding announcements aren't an exception.
Of course, the most important thing is to pick something that looks like you. It isn't about follow the actual trend just to be "in". You have to think about you first and your wishes. But, some novelties, beyond being pretty, can also make life easier for you.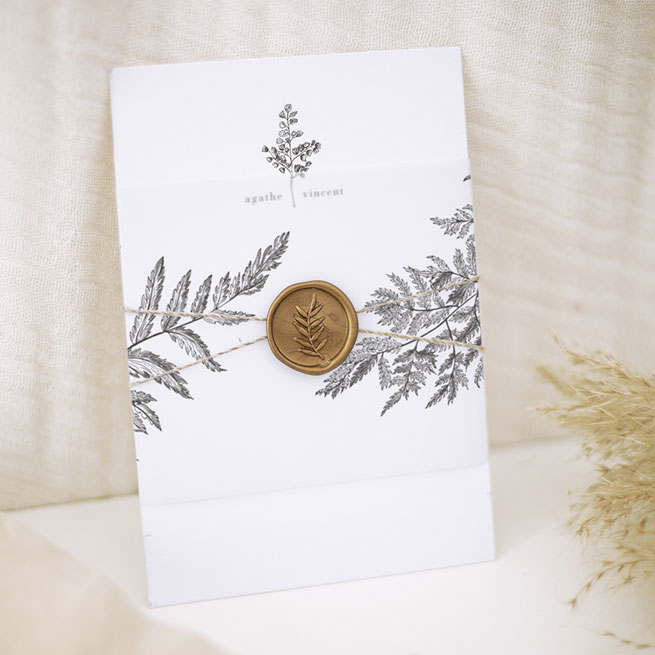 source image and creation: Cotton Bird
The importance of wedding announcement
In our article dedicated to the choice of your wedding stationery,we told you about wedding announcements. Indeed, every element has its own part. Menus and seating marks are put on the table, whereas the greeting booklets, they'll be precious memories.The wedding announcements papers, have to be the reflection of your whole wedding. They announce what's coming.
Very often, the beauty of the wedding announcement is linked to the style chosen for the decoration. Calligraphy and delicate flowers go perfectly with the most chic themes, whereas warm colors and modern typography echoes more bohemian atmospheres.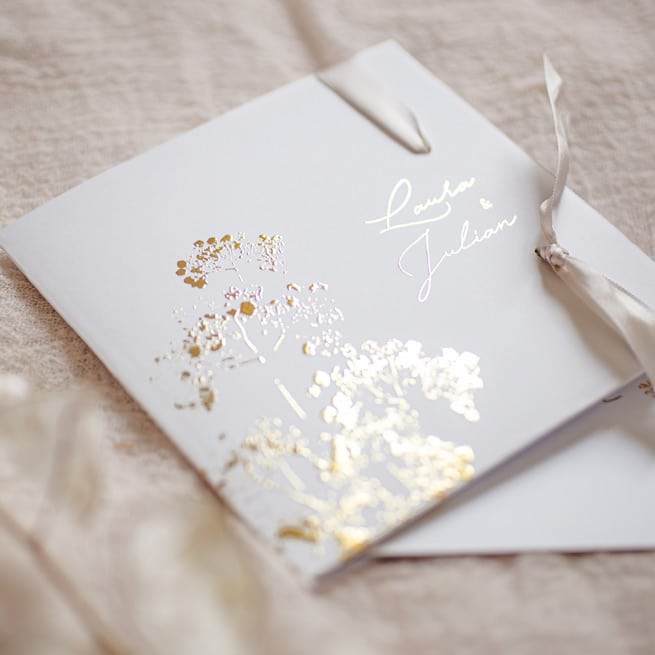 source image and creation: Cotton Bird
But, beyond its appearance, wedding announcement papers are indicators of happy days. They're the messengers of your love and make your decisions to be together forever official. At first, parents of the engaged couples used to go to their relatives to announce the good news. And if these people weren't home, they were given a note called "billet de part". This is hows wedding announcement papers were born. A tradition that kept on going in aristocracy first and then became banal until now where it's an unmissable step of the organization of the wedding. We must say that being able to send them by mail is a very practical way, preventing us from going all around the world to tell the news.What if more beautiful novelties made your life easier ?
The tendencies for wedding announcement
As said previously, wedding announcement must reflect your love and style.But when technology is used to help engaged couples and when it's pretty.. It's a big yes !
We recently discovered a new service which allows you to create tailor made videos for your wedding announcements. And we have found a lot of advantages to this solution.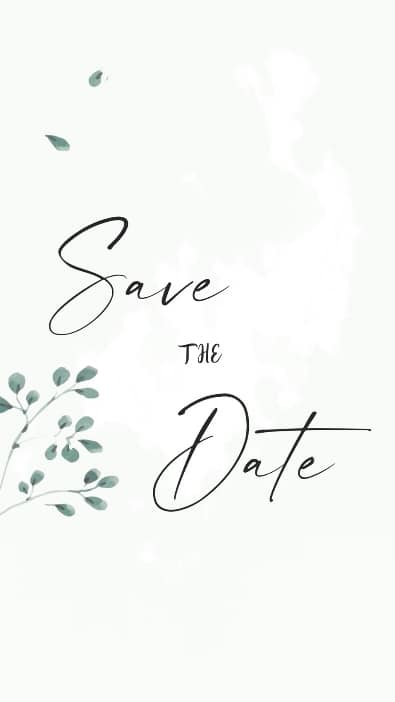 video extract from Memento Wedding
It is a non-negligible gain of time in the rush that preparing a marriage represents. All you have to do is fill in a form and select a few nice photos of you to launch the creation of your personalized announcement. Then, you'll be able to share it with all your guests in one click. No enclosing or stamp needed. It is a simple and fast way to let everyone know about to good news. Even more, it's great for the environment.
Without all the paper needed for the envelopes and the transport, the ecological impact of this new generation of announcements is reduced.
Who's better than the founder of Memento Wedding, Jean to talk to you about this novelty? He's answering the questions asked by engaged couples who want to know how to make announcement that looks like them.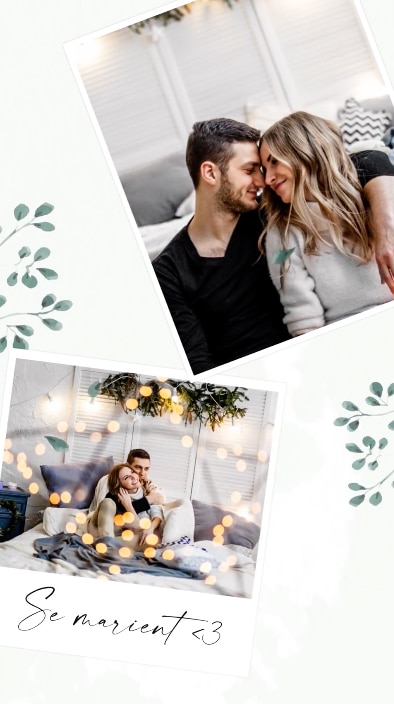 video extract from Memento Wedding
A video for your wedding announcement
How was the Memento Wedding concept created ?
Memento Wedding is a concept created in 2020 to help engaged couples to face the pandemy. After all the dates having to be rescheduled, a lot of engaged couples didn't want to go back to the making of classical announcement papers : choosing, printing, receiving, sending, getting the responses…
This is why we offered an original, practical and elegant alternative : a digital and ultra-personalizable wedding announcement throughout a video with some music to create a moment full of emotion.
For the engaged couple, it is at the same time, a unique and emotional announcement but mostly a true gain of time and energy.
Is it possible to personalize the video as well as a classical paper announcement ?
Engaged couples can personalize their video the way they want, to an infinite possibility to create a unique announcement ! This is why we offer a lot of options:
Pick the theme, colors, text and typo.
Add photos to personalize even more.
Possibility to add in the video… other videos.
Possibility to choose a music at the image of the wedding for a maximum of emotion.
Other actions possible such as : RSVP, adding date to the calendar, planning...
Tailor-made personalization with a designer
Even more, unlike paper announcements, engaged couples can visualize and try their personalization before buying anything. It makes it easier, fast and enjoyable. It's the end of the stress before knowing what the finish will look like !
When is it the best time to send the wedding announcement video ?
Usually, it is recommended to send it 3 to 5 months ahead.
For the "Save the Date", it's better to send it as soon as possible. It's even more important for the guests who live abroad so that they can organize better.
To help engaged couples to face uncertainties liked to COVID-19, we can:
Create last minute videos in less than 24h.
Reassure those who want to make announcement way ahead since we offer a free republication of the announcement video in cas of change of plans, without any limitation.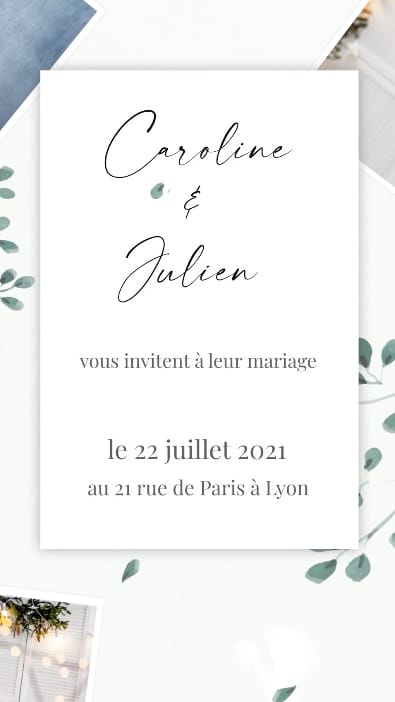 video extract from Memento Wedding
How hard is it to create my video announcement with Memento Wedding ?
Nothing simpler than that !The creation of a video Memento quand be done by clicks directly from our website.
To do it, you need:
To pick a theme. If no theme matches your taste, no worries ! It will be possible to create a tailor made theme !
To personalize the text : date, place, catch phrases…
Pick photos
After finishing your demand, you'll receive your video in 24h. Then you'll be able to modify it and have access to even more personalized option:
Change basic elements (theme, color, photos…)
Music
Choose the typo
Add videos
Make tailor made modifications
Of course, the personalization phase is free. The engaged couple have to pay only when they're satisfied by the result !
What is the information I mustn't forget on the announcement ?
All the way through the process of creation, we will guide you so that nothing is forgotten by asking you essential information such as the date, the place, the time, the address.
But we also suggest you to ass practical information like the date for the RSVP.
To make things easier for you and to reassure you, we even have people to read to announcement to make sure that the orthograph is good or to make suggestions.
How to handle the RSVP's ?
Memento Wedding offers an option that will make you win enormous time : the invitation card !
This option allows to add an RSVP button on the video to allow the guests to directly click and give their answer. Memento wedding will then be able to gather all information in one file. Then no need to run to get all the answers.
It is even possible to add a response form to receive all the information that is practical (food allergy, number of guests..)
While following tendencies for wedding announcement, it is important to take time and create your unique model. It's going to be the first thing everyone will see of your wedding and must be a reflection of D-Day. Take time to think of every detail and don't hesitate to rely on technology to make your life easier.