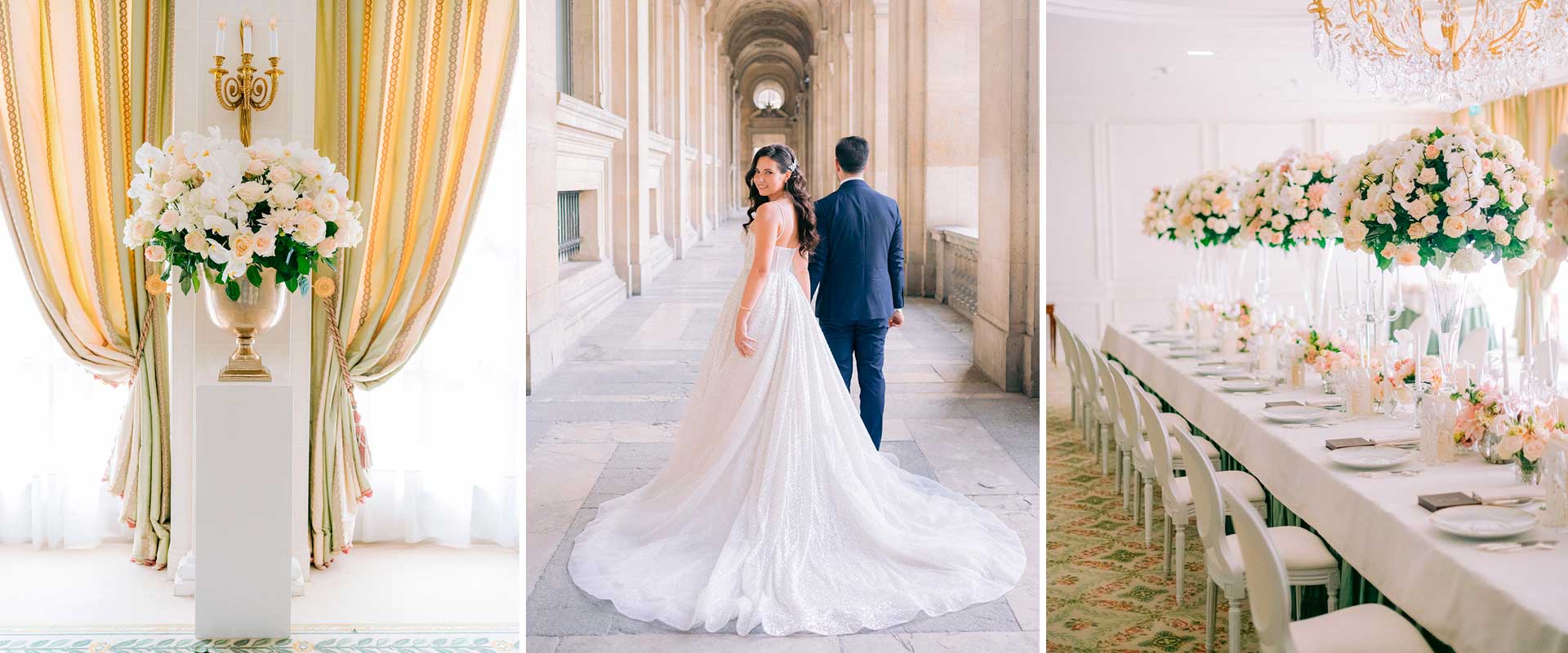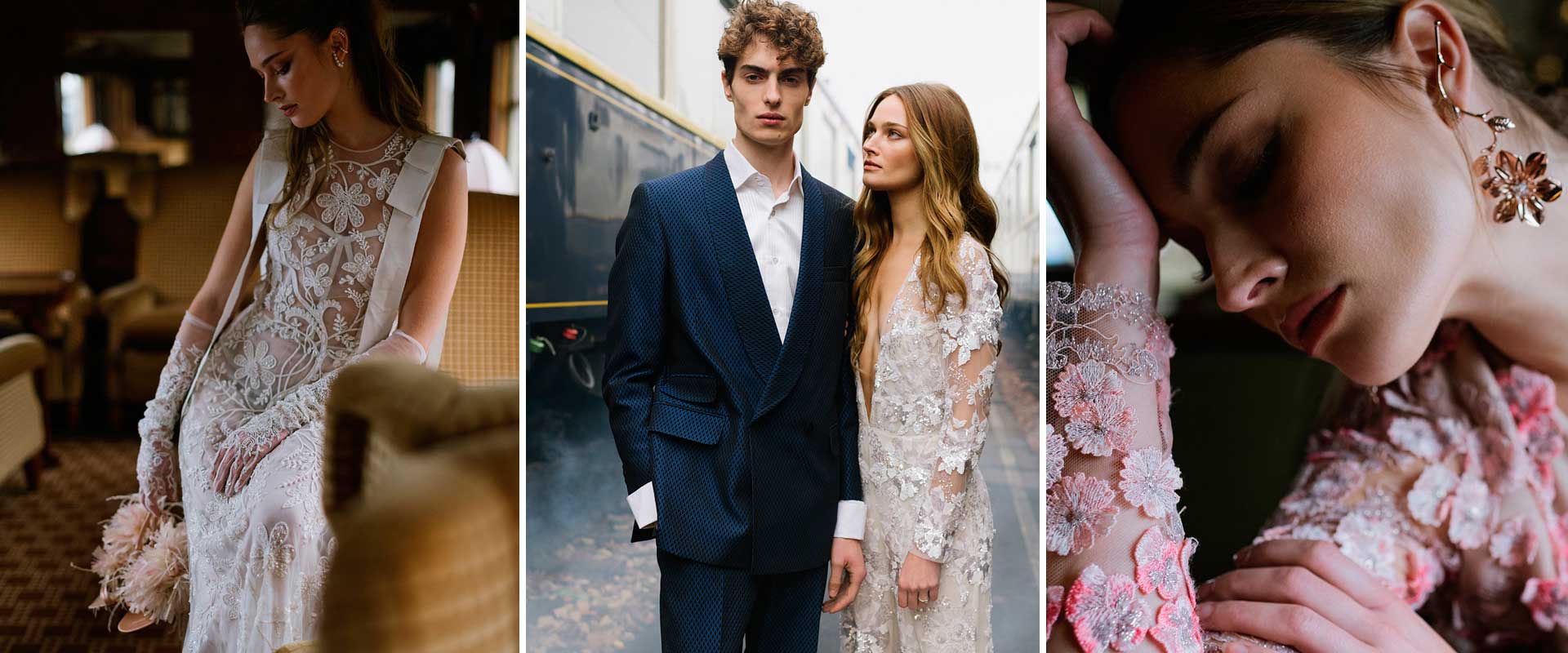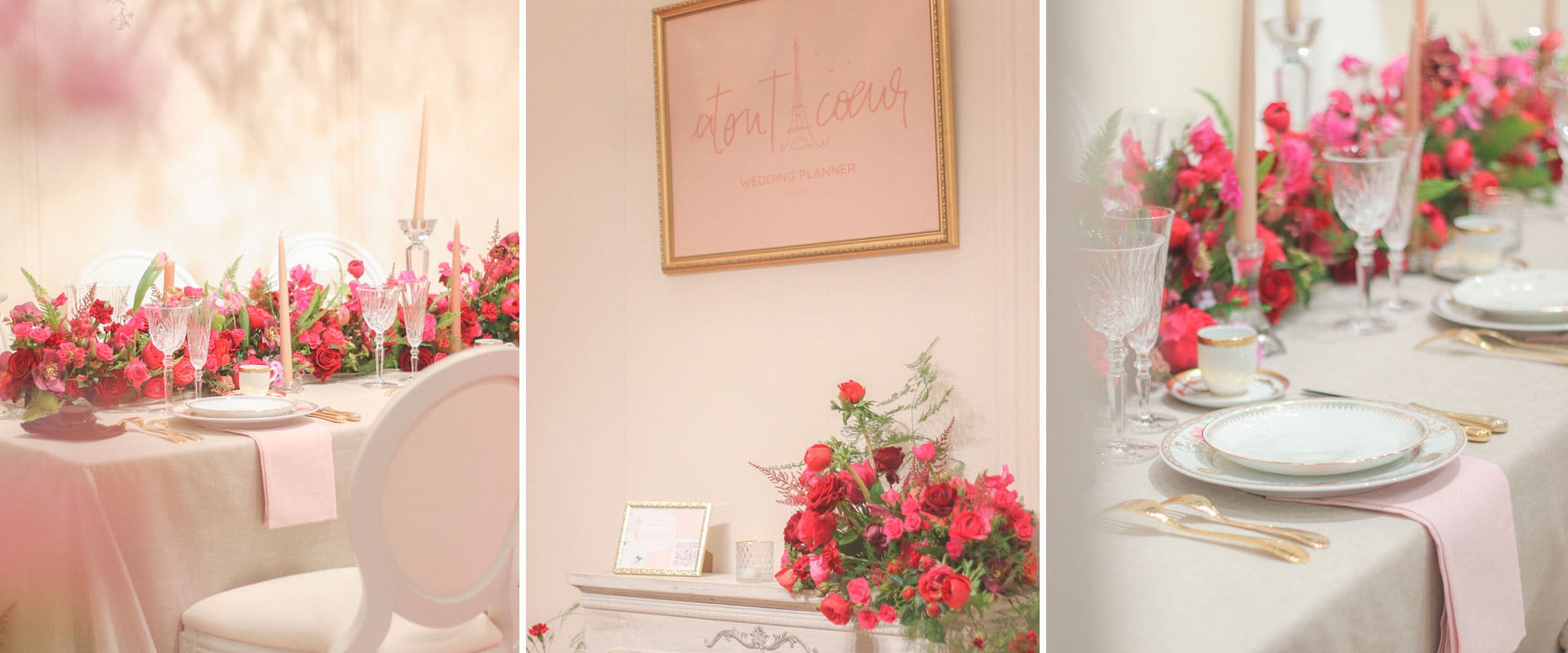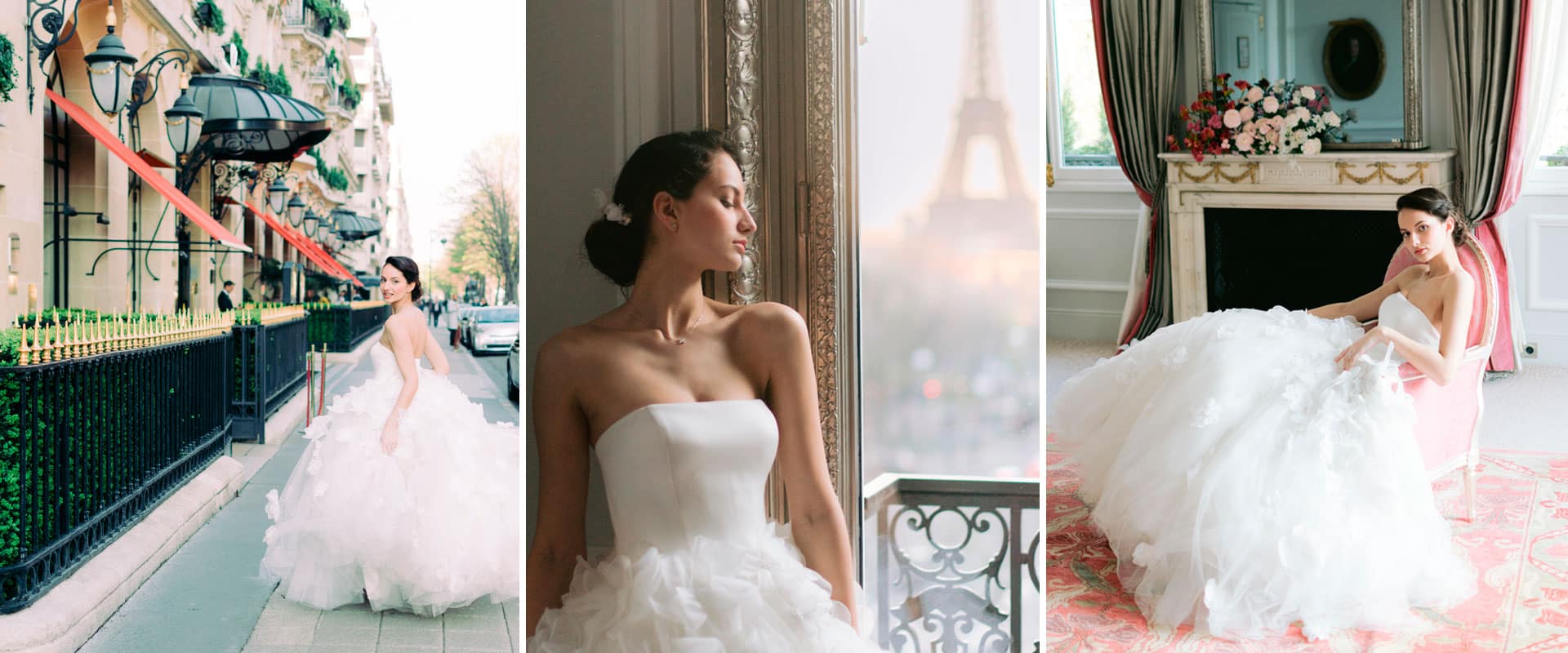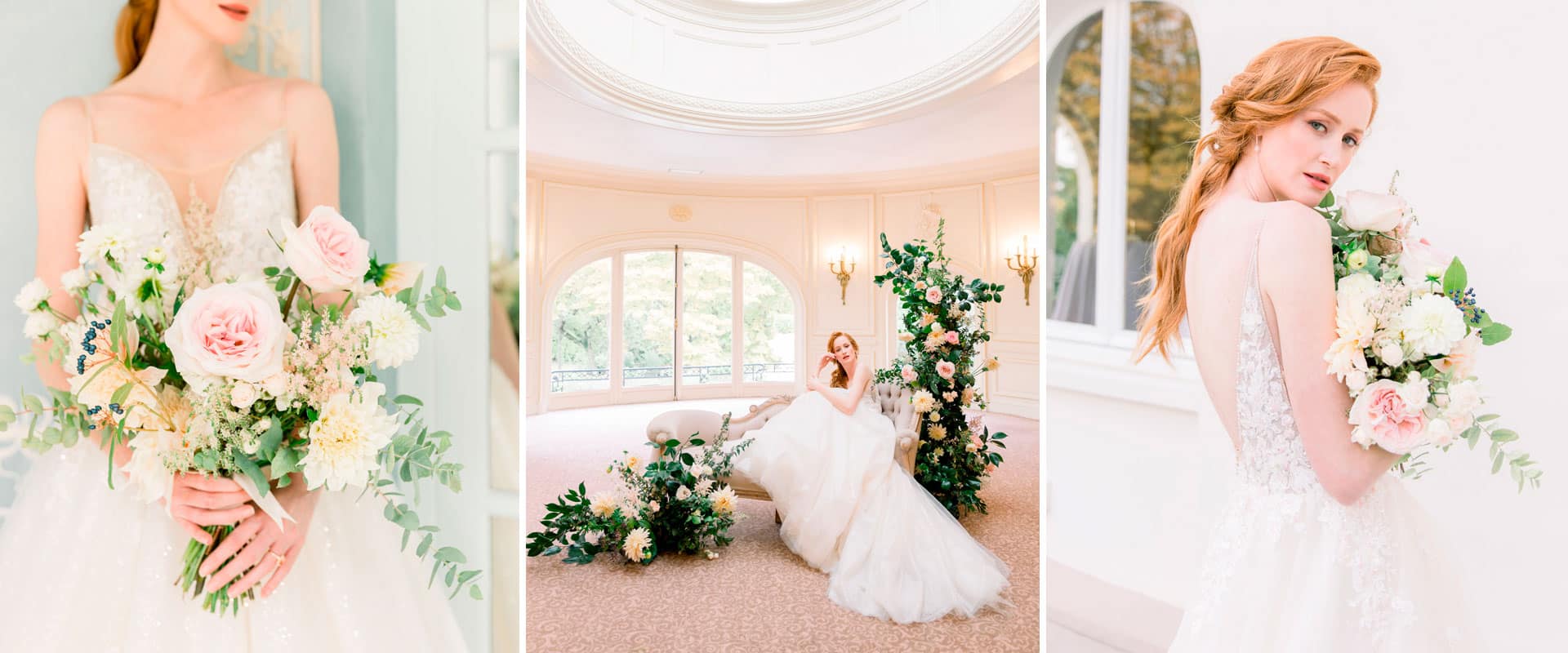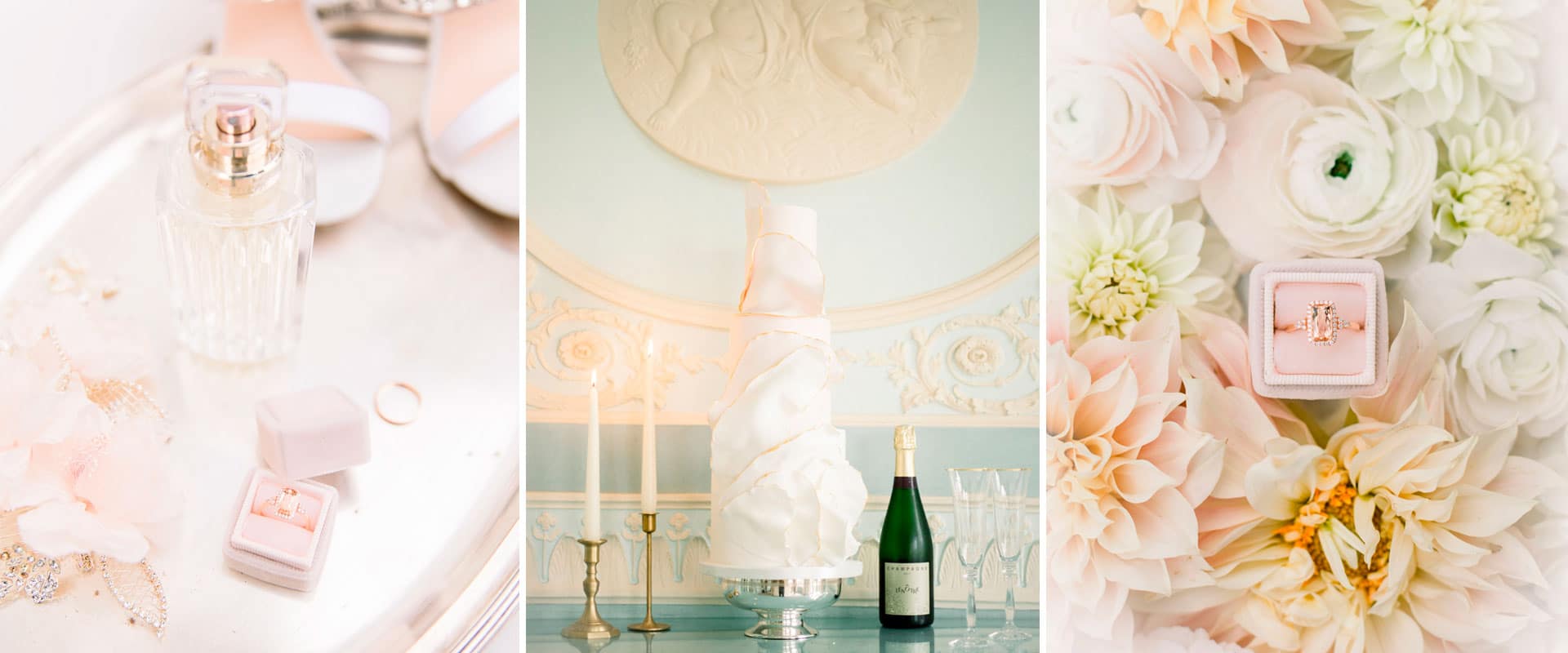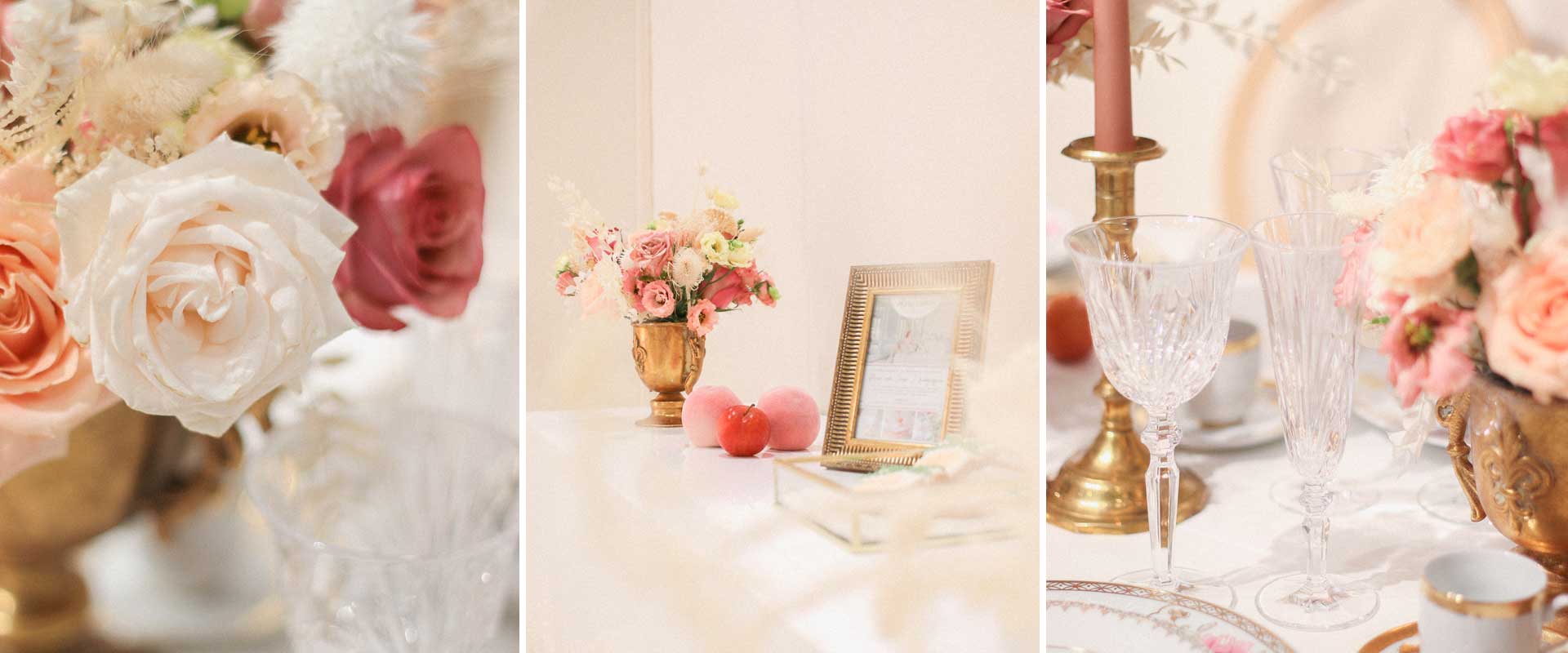 le-bristol-Wedding-Planner-Paris-luxe
salon-du-mariage-2022-ATC
Wedding-Planner-Paris-luxe
organisation-mariage-hautdegamme
mariage-luxe-au-pre-catelan
salon-du-mariage-2021-ATC
Wedding Planner Paris
Luxury wedding organisation.
Wedding Planner Paris, Atout Cœur Wedding, is an agency specialized in luxury since 2009 and in exceptional wedding organization in France and abroad. We accompany our engaged couples from the making to the coordination of D-day by giving them all the agency and Stefania MAGRO's expertise, as she is an expert in luxury events. The Atout Cœur Wedding Agency is proud to introduce you to their partnerships with well known Houses and Establishments such as the Oetker Collections, known as one of the biggest leader in the world of luxury hotels, but also La Maison de Parfums Molinard or the Bichester Village Shopping Collection with La Vallée Village.Surrounded by these prestigious collaborators, we offer an ultra personalized service to our clients and to be able to do it we reunite decorators, sound and image engineers, professional musicians, renowned photographers but also exceptional places and caterers. It is our greatest desire to realize with the same precision, an intimate wedding tand a legendary wedding.
With more than 10 years of experience, Stefania and her team do everything they can to create a wedding that resembles you.
Our partners consist of exceptional places, gourmet menus, talented photographers and well known designers.

According to your desires, we connect you to the service providers which are more likely to match your expectations.We work with brands and designers with whom we share high quality values. However independent, our agency keeps a total freedom to accompany you in all your ideas, even the most original ones. A special department exist for abroad weddings, allowing you to dream big and above our country. We will deal with all the administrative process and will look on how to create a magical and respectful moment, according to your wishes and which will be compatible with the tradition of the country involved. On the lookout for the last tendencies, we adapt ourselves to the themes and needs of our engaged couples. The well thought pieces of advice from our experienced team will relieve you from all the organisational pressure from the day. From the selection of the place, to the choice of the caterer, to the outfits and flowers, we work with a global vision of all the aspects of a wedding.

Your dream wedding
Organised, discreet and effective, the members of the Atout Coeur Wedding Paris team, can organise your dream wedding from top to bottom or with customizable options. Every detail will be taken into account and meticulously prepared for your D-Day to be pure joy and happiness for the engaged couple and their guests. Answers to your questions, accompanied by us, help to choose partners and luxury services will be part of each step of the making of your wedding up to the big day. You can trust us to relieve you of any pressure you may feel and give you all the keys to build an event that will go beyond your expectations.
Our values as Wedding Planner Paris are : Excellency, Respect and Attentiveness. Discover our team
Un grand merci à Atout Coeur Un grand merci à Atout Coeur pour nous avoir suivi depuis 2019. Pour nous, l'équipe de wedding aura été la meilleure décision de notre mariage. Vous nous avez aidés à passer non pas un, ni deux mais quatre reports. Vous nous avez présenté un panel de prestataires de qualité. Déjà que nous étions vraiment contents de vous avoir durant toute la phase d'organisation. Mais alors le jour J... Best day ever ! Un déroulé impeccable, et un lendemain de mariage serein. On n'y pense pas mais c'est également toute une organisation de planifier les démontages. Nous ne manquerons pas de parler de l'agence à notre entourage et vanter votre professionnalisme sans faille !

Merci beaucoup Un immense merci pour cette agence de Wedding que nous recommandons les yeux fermés. L'organisation a été parfaite. Nous avons été libre du choix de nos prestataires, des suggestions mais rien d'imposé. Un grand merci pour votre professionnalisme, votre écoute, votre savoir faire et votre gentillesse une vraie équipe unie, un suivi au top depuis 3 ans suite aux 2 reports liés au covid. des réunions mensuelles dans le suivi de l'organisation de notre mariage et une grande disponibilité de toute l'équipe. Vous avez fait de ce jour un jour mémorable et merveilleux vous avez été nos charmantes fées de la belle au bois dormant. Toujours présentes et très discrètes. Nous sommes des personnes exigeantes et elles ont été très à l'écoute de la moindre de nos souhaits, tout a été réalisé à la perfection. Nos invités nous ont complimentés sur l'organisation de cette journée. Nous n'avons pas assez de mots pour remercier cette belle équipe de filles. Vous nous manquez déjà ! Une amitié est née, ce n'est que le début d'une très longue amitié, nous vous embrassons Sylvain et Cédric.

Génialissimes ! Sans hésitation les meilleures wedding planner dont vous pourriez rêver ! Grâce à elles nous avons eu un mariage magnifique qui s'est déroulé dans la détente, la joie et la bonne humeur et surtout sans stress ! Une équipe attentionnée que je recommande les yeux fermés

THE wedding planer company Nous nous sommes rendus au salon du mariage à Porte de Versailles en Septembre 2021 afin de trouver des prestataires pour l'organisation de notre mariage qui a eu lieu en Juin 2022. C'est en sortant du salon que nous nous sommes rendu sur le salon d'Atout Coeur Wedding et que nous avons rencontré Maud et Stefania. Au bout de 30 secondes nous avions fait notre choix : ce sera elles et personne d'autre... et nous ne sous sommes pas trompés. Quel plaisir de se sentir écoutés, entendus, entourés, soutenus, aidés et conseillés pendant ces 9 mois ! Nous n'avons eu qu'à nous laisser guider et à trouver de nouveaux challenges avec nos demandes fafelues... qui ont été relevées à chaque fois (à part la licorne ;-)). Un immense merci à toi Maud pour nous avoir supporté (dans tous les sens du terme) pendant tout ce temps et d'avoir été aussi généreuse de ton temps pour faire en sorte que notre mariage soit magique.  Quel confort aussi de pouvoir se reposer sur cette équipe le jour J ! Sans Stefania, Chloé, Myriam et bien entendu Maud, nous serions certainement passé à coté de beaucoup de moments de notre mariage. Une organisation sans faille capable de faire face à n'importe quel type d'imprévu (et il y en a eu :-)). Même nos convives, qui ne voient que la partie émergée de l'iceberg, étaient bluffés par leur efficacité, leur gentillesse (malgré le stress) et leur professionnalisme. Sans ces fées des temps modernes, notre mariage aurait été bien. Atout Coeur a transcendé cet évènement pour en faire un mariage waouh pour nous et nos convives. Merci du fond du coeur à toute l'équipe pour ce week end qui restera gravé dans les mémoires de tous et pour cette expérience humaine unique que nous avons vécu avec vous au cours de ces 9 derniers mois, au delà d'une simple relation client-fournisseur. On vous embrasse fort.

Notre mariage le 25 juin 2022 au château des hauts de provins Quel bonheur d'avoir croisé votre chemin, Stefania et Aurélie, et toute votre équipe, votre travail a été exceptionnel du début à la fin, vous êtes bien plus que nos wedding, vous avez fait de notre journée, un vrai bonheur. Vous avez tout géré même les imprévus, vous avez exercé plusieurs métiers pour que tout soit prêt et conforme à nos désirs, de vrais fées. On vous recommande à toutes les personnes qui vont se marier, et pour nous on se retrouvera au mariage de notre fille. Vive Atout Coeur

Wedding planner au top ! Coucou les filles, on est de retour chez nous depuis peu, on redescend gentiment de notre petit nuage… On voulait vous dire un énorme merci. Déjà convaincus par votre professionnalisme avant le mariage, votre rôle majeur hier  pour notre journée n'a fait que confirmé notre volonté de vous faire totalement confiance. Vous avez été superbes ! Nous avons reçu énormément de compliments sur l'organisation, le rythme de la journée, la qualité des prestataires et tout cela c'est grâce à vous ! On a réellement pris plaisir à construire ce projet avec vous. Vous nous avez transmis vos conseils toujours avec tact, gentillesse et proximité. Notre journée d'hier était magnifique. On s'attendait à ce qu'elle le soit, mais elle était même au delà de nos espérances. Vous êtes vraiment notre rencontre coup de coeur sur ce projet mariage, et croyez moi que l'on va bien faire de la pub au bienfait d'avoir un wedding planner, de l'agence Atout Coeur Bisous à toutes de nous 2, vous allez nous manquer

Une équipe formidable Nous sommes ravis d'avoir confié l'organisation de notre mariage à l'équipe d'Atout Coeur. Elles ont été, du début à la fin efficaces, et nous ont permis le jour J d'être sereins et détendus pour profiter à fond de notre journée. Un sans faute et des filles adorables !

A team at the top of their game ! What a chance I've had to be able to collaborate with such a professional team ! Stefanoa and her team are absolutely perfect ! We spent a wonderful day together. Everything went according to plan. Their expertise in the wedding and event world isn't to be proven anymore. I have met beautiful people, kind and warm, who are the strength of the agency. Surround yourself with the Atout Coeur team with closed eyes, I assure you that you'll be in great hands !

I had the chance to work with the Atout Coeur Wedding team several times for the floral designs of the weddings. It has always been a pleasure, the wedding planners are always very available and the organization always goes perfectly. For a relaxed and successful wedding, I recommend Atout Coeur Wedding to all the brides !

We know the Atout Coeur Wedding agency professionally. The team is very attentive to their clients' needs to, and above all, satisfy and accompany them the best they can. They are trustworthy partners for your wedding. Professionalism, Empathy and Attentiveness !

To be a wedding planner : a key job in the organization of a wedding. As caterers we regularly meet them and Atout Coeur Wedding is a serious and professional company which will know how to answer your needs and keep you away from all the stress and heavy logistics around the wedding to help you focus on the essential and enjoy the moment !

As the director and the manager of the Annapurna Music agency since 2006-, I worked with many service providers, caterers, venues, logistics, furniture and wedding planners. Stefania Magro is leading her Atout Coeur Wedding agency perfectly and her team are in tune with the values she's sharing : precision, empathy, attentiveness, flexibility. We bonded professionally with Stefania as we evolve in the VIP universe which is very demanding and where the trust between service providers is essential. The artists I provide her are contributing to putting forth the quality of her work. I can testify that every Wedding agency isn't the same.. but when you find out it's usually too late.. So, put all the chances in your favor and pick Atout Coeur Wedding to organize your event.

The Atout Coeur Wedding team is the best ! They knew how to support us throughout all the chaos related to covid and it feels good the be understood and surrounded during the organisation, especially when you have a tendency to get anxious like me. Many thanks to the girls (and to Steven!) for being there.

A lot of chaos has happened since we got engaged : engagement in May 2019, wedding supposed to happen in June 2020, postponed to October 2020 (covid-A9), then again postponed to September 2021 (covid-19), then again postponed to 2022 (moving abroad) ! Since 2019, the team is dealing with the organization of our wedding (300 guests !) They handled not one, not two but three adjournments with everything involved (letting everyone know, lightning speed coordination on a new date, contracts…). Everything by staying very professional and human at the same time. In our professional lives, my fiancé and I are project managers but thankfully Atout Coeur Wedding is here ! Having a good wedding planner takes all the stress away, the Atout Coeur team has our full trust and we can't wait to see the result in 2022!

We were lucky to meet someone from the Atout Coeur Team during the wedding salon in 2019. We chose to contact Stefania and she immediately offered to meet us. We didn't think we would go for a wedding planner but as we saw the amount of things to do, the very close time (less than a year to organize a wedding with more than 100 people) and the management of upcoming stress we thought we could go for Atout Coeur Wedding which was filling all our criteria. Then covid happened and we had to postpone the wedding once from September 2020 to April 2021 and then a second time from April 2021 to May 2022. Right away Stefania told us our wedding could be postponed in 2021. Even if the news was difficult to hear we were so lucky to have Atout Coeur Wedding as they were proactive and knew how to adapt to this crisis and to handle the whole contracts part to postpone the dates with service providers. It gave us the ability to save money but also to assure that we will keep everyone for the next year and to tell our guests early. Our wedding is happening in 2022 and we are reassured because all the service providers we chose 2 years ago will follow us. Everything is already perfectly organized and our wedding planner who will be there on D-Day (Aurélie and Myriams) have our entire trust. We are convinced that our wedding will be handled with professionalism and enthusiasm. Be assured that Stefania's team can manage your event perfectly and this magical moment will be the most perfect moment for you !

After a very nice meeting and a very welcoming team during the wedding salon of 2019, we decided to meet them in their office to trust this team with the organization of our wedding. The team has been an unfailing support for us and through every step even when we had to postpone the wedding because of the Covid-19 crisis. Stefania and Aurelie went way beyond their mission and allowed us to go through this tough time calmly. By choosing the Atout Coeur Wedding team, we knew for sure that we would benefit from a flawless wedding but it was even more than that ! Thank you so much to this incredible team, professional and kind ! Truly thank you for everything !

We had to postpone our wedding twice because our families are living abroad but the Atout Coeur Wedding team allowed us to stay calm during theses moments of stress and deception. They knew how to comfort us throughout this whole journey by being the best all the time ! It has been two years since we started working with Atout Coeur Wedding and working together was the best decision we could ever take for our wedding ! We recommend this team without any hesitation, it's an exceptional team !

A big thank you to Stefania for coordinating our wedding day in October 2019. Stefania masters her subject perfectly. We can only recommend it to you.

What a marvelous meeting ! We met Stefania and her team in December 2018, and it was love at first sight. Stefania is a great professional who doesn't give anything to chance. With the help of Florestine and Aurelie, they made everything possible to realize our dream wedding. Our wedding took place on 28th of September 2019. A day we will never forget, everything was perfect. We wanted a non-religious ceremony and Stefania was our laywoman. So emotional ! Thank you, Stefania, for everything, thank you Florestine for your beautiful voice and thank you Aurelie for your amazing smile. You've all been fairy godmothers! You are in our heart forever. We love you.

We warmly thank the Atout Coeur Wedding teal for organizing this wonderful day. They've been very professional and gave us really good pieces of advice during the wedding preparation. The collaborators with whom they're used to work offered us high quality services! The day before and on D-day, we've been impressed by their capacity to organize everything, to handle the partners and the guests (discreet but very attentive to details). Having them by our side allowed our witnesses and ourselves to fully enjoy every moment without stressing about how the day will go. Again, a massive thank you Stefania, Florestine, Aurélie and Maud!

Such a beautiful meeting with the Atout Coeur Wedding team ! Thanks to her, our wedding was pure joy to prepare. Its leader, Stefania is a true ray of sunshine, accompanied by all her little fairies. They are people with true values, always smiling and positive, and they've been with us before and during our event thanks to all their precious pieces of advice which show a large experience in weddings. Stefania is passionate about her work and all her team works with all their heart to make sure your day is going to be the most beautiful day of your life. The way they handled the collaborators and guests was exemplary. We were thrilled to call on them to organize this important day for us. They've been human and professional through all the preparation of the event. Our guests even applauded their work because thanks to them, we've had such an idyllic day! We wouldn't know how to tell them how much we thank them; Stefania is indeed an iron fist in a velvet glove, it perfectly suits her! Thank you, girls, because without you our wedding wouldn't have been this perfect!

« Enjoy it, because the day flies by ». These words truly meant something for Laurent and I on our wedding day, because we were relaxed. Trusting the Atout Coeur wedding team for organizing our wedding was the key tou our serenity. We've met more than anything formidable people, attentive to us (no pressure on you, you are the one deciding) who've been there to accompany us, advise us, and reassure us all the way through. Thank you, Stefania, and thank you to the team (Florestine, Aurélie, Justine and Maud) for our constructive exchanges and your kindness during this year of preparation. Thank you for your professionalism, your happiness, your always warm welcome and mostly your presence on D-Day at dawn! Laurent and I lived one of the most beautiful days ever thanks to you by our side and we thank you very much for making our wedding day a wonderful and unforgettable day. We're so happy we've met you and gave you our wedding organization. Thank you for this mutual trust. You will be forever in our heart.

We called Atout coeur Wedding for our wedding organization. High quality services, everything was handled masterfully by Maud. With professionalism and great care for details. Maud knew how to create a harmony between collaborators and showed a lot of empathy and smiles towards our guests. We do more than recommending Maud for engaged couples. Zero faux pas. Thank you Maud.

A top level team with a sense of professionalism without equal ! If you want to enjoy your day without having to think about the organization or whatever hitch that could happen, they are the ones you need to call. Stefania's team allowed us to live our dream wedding. They've accompanied us for almost a year until the big day. And for this we are so thankful.

I could not have had the wedding of my dreams without the Atout Coeur team. They helped me keep my cool while I planned a wedding solely by email from across the globe, and were a great liaison between us and all the other vendors. They took so much off our hands that when we finally arrived in Paris all that was left to do was enjoy and have fun. The staff is not only professional, but super sweet, and I cannot recommend them enough.

We had the most beautiful wedding thanks to this Wedding Planner team !! Especially a wedding which didn't necessarily match with what you call a classic wedding.. A professional team, very attentive and available. You can get in touch with them without any hesitation!!!

How, in a few words, tell, what Stefania, Aurelie, Maud and Florestine did for us, to make sure our day is the best possible. We've spent a year preparing our wedding and from the first day we met to D-Day, they've been here for us, very professional but with their heart first. They are what we call Hearts on legs. They know how to advise you without taking away your personality. They've always been there for us and, now that it's done, we really miss them. We could never thank them enough for everything, and a special thank you to Stefania for being Ali's mum for a day. I have so much to say.. You'll always be in our heart, and we'll see each other soon, we won't leave you so easily.

Let me say this again, you really feel like it's not just about a work contract for them. And there's nothing more enjoyable than preparing your wedding with people like this (because it's not everyone's case trust me.). I recommend this agency at 100%.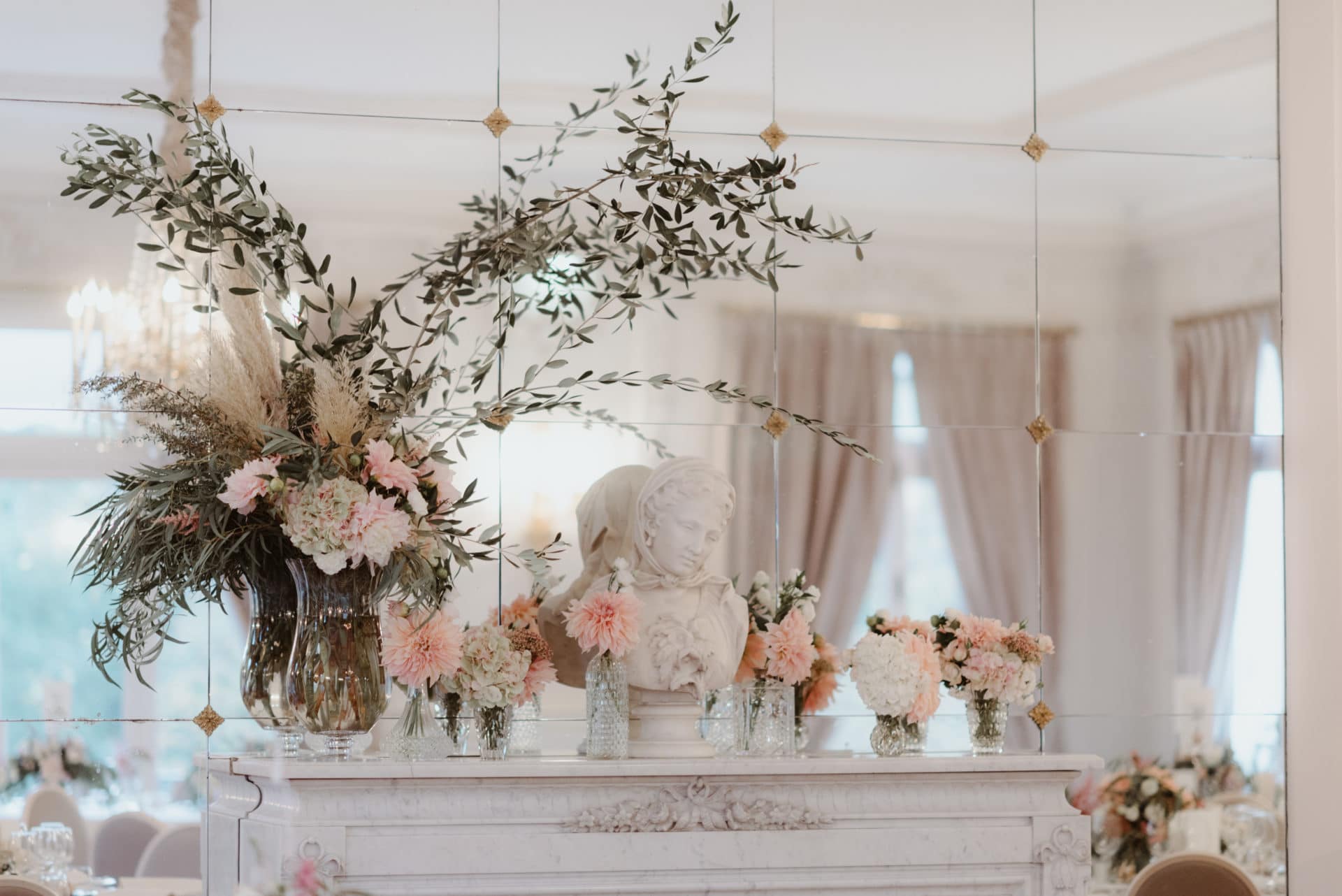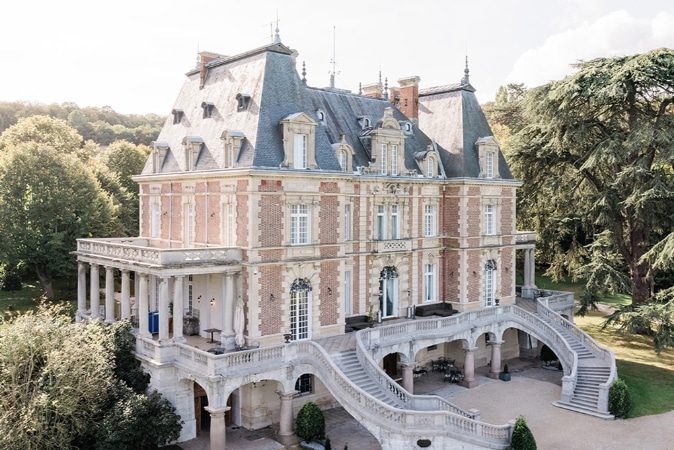 Follow us on Instagram!
We've spotted for you the last trends, discover our favorites!
Atout Cœur Wedding Planner Paris recommended by