One of the most important tasks on your wedding day to-do list is organizing your wedding meal.The dinner (or, more rarely, the lunch) should reflect the atmosphere and spirit you want to instil in your special day. Our team of wedding professionals will be happy to share with you some of their top tips for a wedding meal that reflects your personal style.
Steps for organising your wedding meal
For once, our 2 main pieces of advice still apply to this part of the preparations...
Plan ahead to have more choice and raw up a to-do list with a deadline.
When organising your wedding meal, there are several things to bear in mind from the outset. Your number of guests alone will guide the rest of your choices. The venue will need to be adapted to accommodate them, and the space dedicated to the meal will guide you in the placement and shape of the tables. Next comes the choice of caterer. Once again, time will be your ally. The earlier you start looking for a caterer to organise your wedding meal, the more choice you'll have among the caterers available.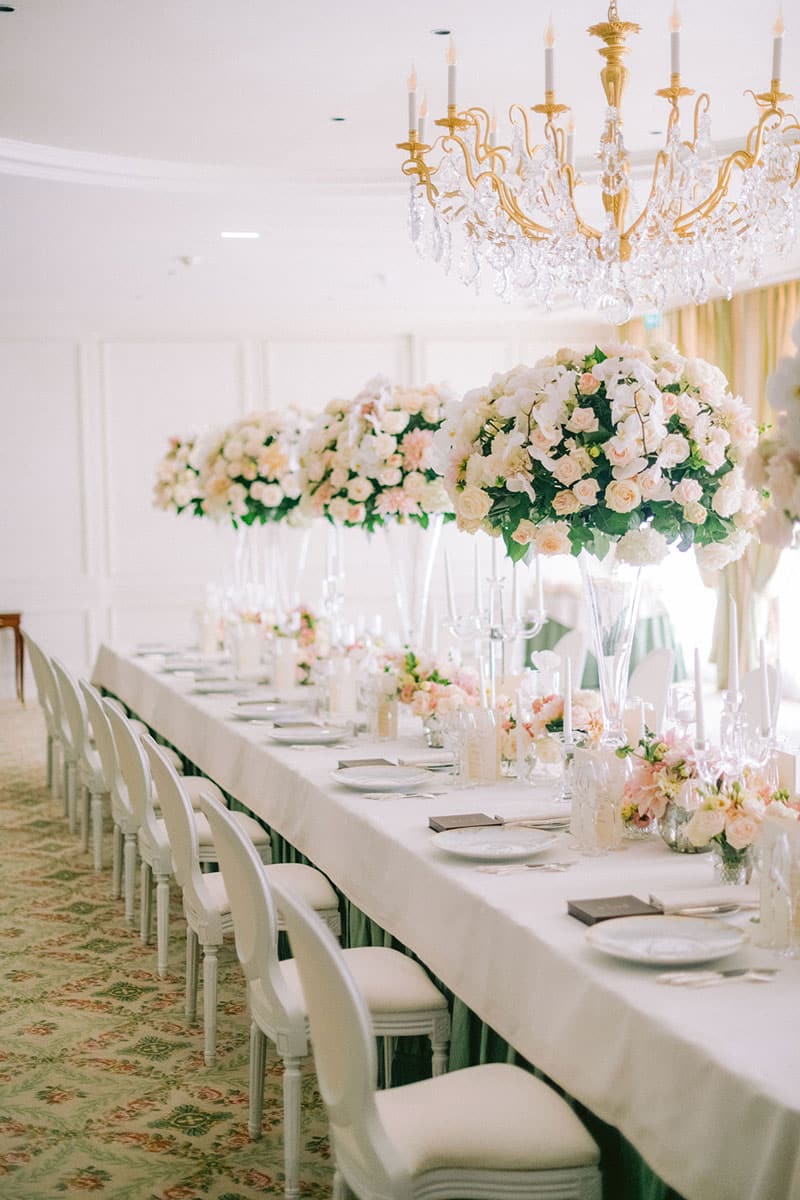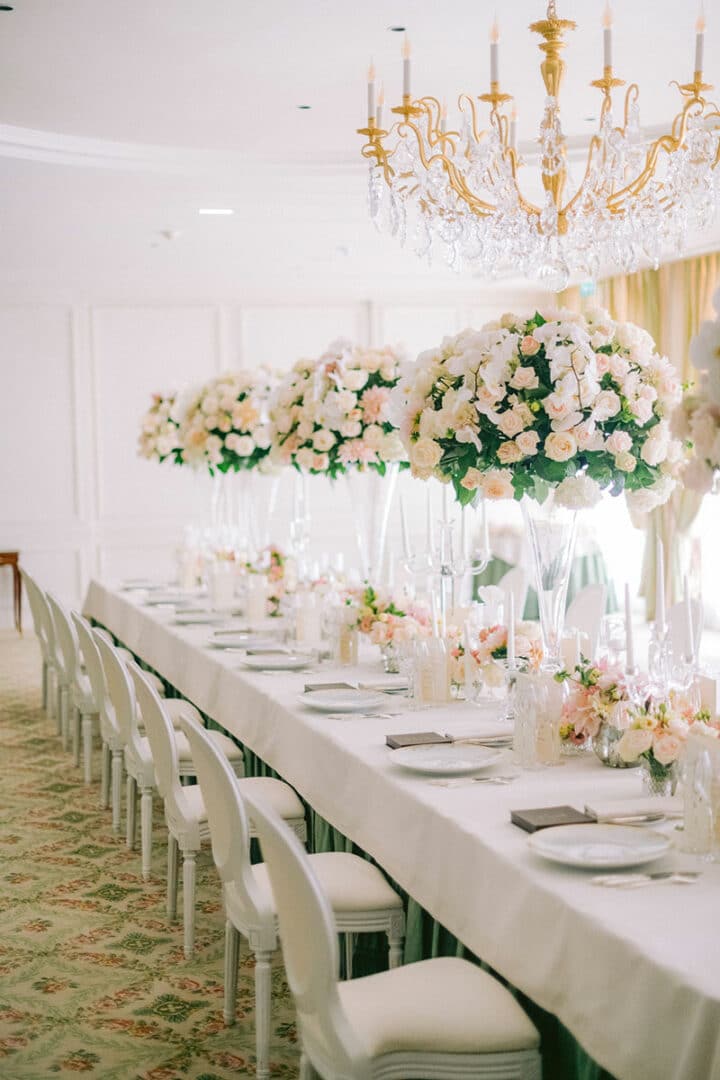 Photographe : Jeremy Froeliger Mariage au Bristol organisation Atout Coeur Wedding
If you want to organise a top-of-the-range wedding meal, it's very important to choose the service provider who will accompany you.. You should be aware that some venues work in tandem with a caterer, such as Le Pré Catelan, one of our agency's long-standing suppliers. When you marry at this prestigious venue, you'll have the pleasure of treating your guests to a dinner prepared by Lenôtre, a world-renowned caterer. But whatever the location of your festivities, we have some real gems in our address book.
The next thing to think about is your decoration. While you'll find touches of decoration at the ceremony venue, it will take on a whole new dimension at your wedding dinner venue. In particular, you'll need to think about the flowers and candelabras, which will need to blend in perfectly with your table setting.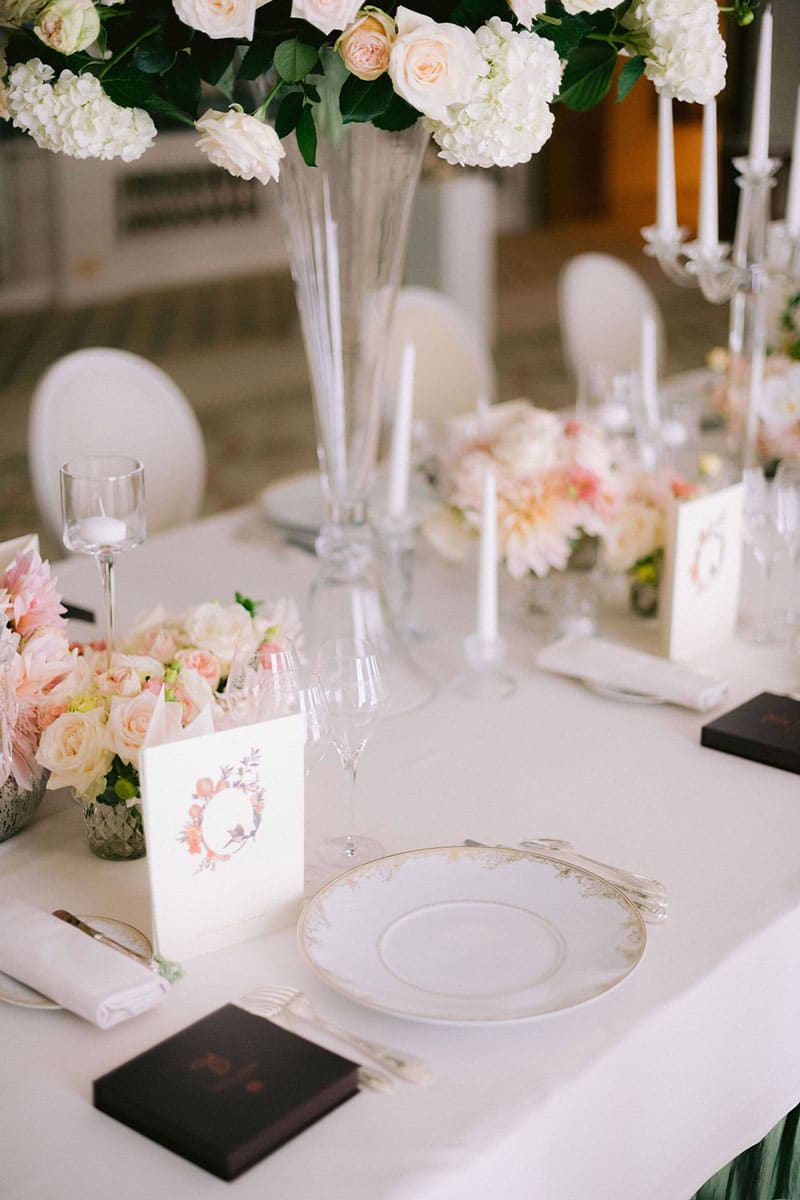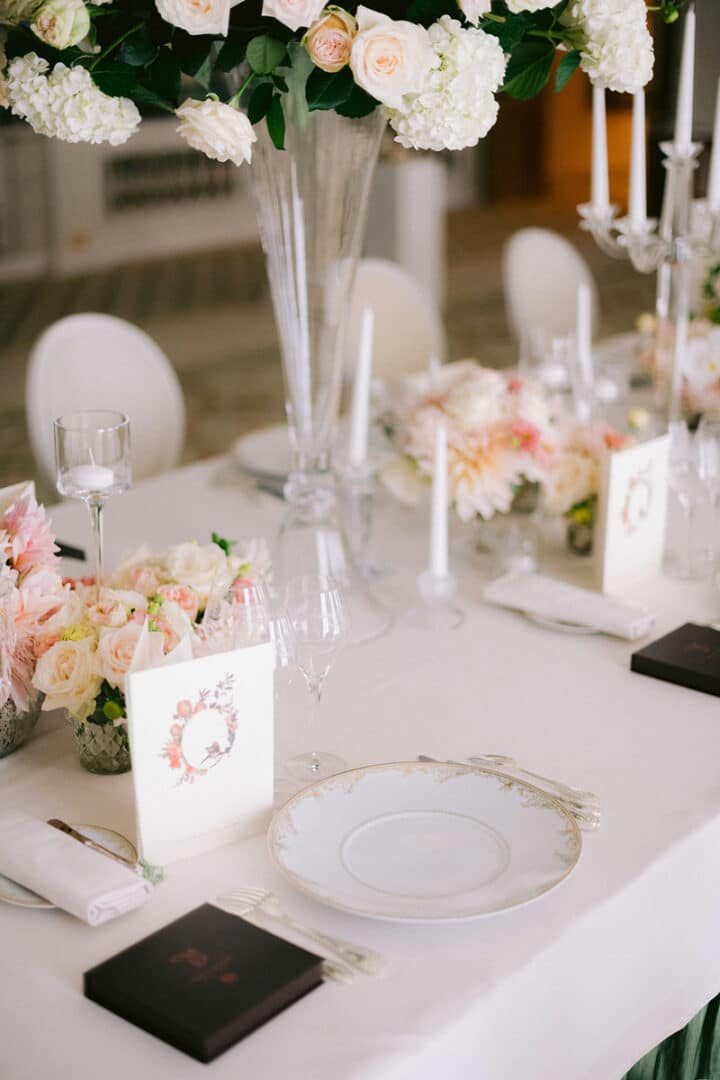 Photographe : Jeremy Froeliger Mariage au Bristol organisation Atout Coeur Wedding
The seating plan and the organisation of space
As mentioned in our previous article, drawing up a table plan can be a tricky task for some future brides and grooms.
To draw up a table plan, the bride and groom should ask themselves what they want to create in terms of relationships and atmosphere during the meal.
The seating plan should also be seen in the context of the whole day. Of course, it's important to plan special moments for both close family and friends, but dinner is not the only time to do this.
If your parents and very close family are seated right next to you at the ceremony, you can decide to seat your friends at the head table during the wedding meal instead.
Organizing Your Wedding Meal also Means Making a Choice About the Location and Shape of the Tables Round, rectangular, in a circle, herringbone... the possibilities are endless.
You can use this diagram to help you decide on the most suitable layout for you.

The importance of details when organising a wedding meal
If you want your wedding to be as luxurious as possible, every detail is important when it comes to setting up the meal. One of the elements to take into account is the layout of your tables.
Carefully designed crockery and glasses are the first thing to go. Chiselled flutes and delicately ornamented plates will be your trump cards. Once again, some palaces and châteaux have their own tableware departments. A refined selection, sometimes bearing the hallmark of the establishment, to guarantee impeccable harmony. You can also buy or hire these items from top-of-the-range suppliers that we can introduce to you.
And if you want a table layout worthy of a Michelin-starred restaurant, you'll need to take care with the arrangement of each element. To do this, follow our guide to French-style table setting..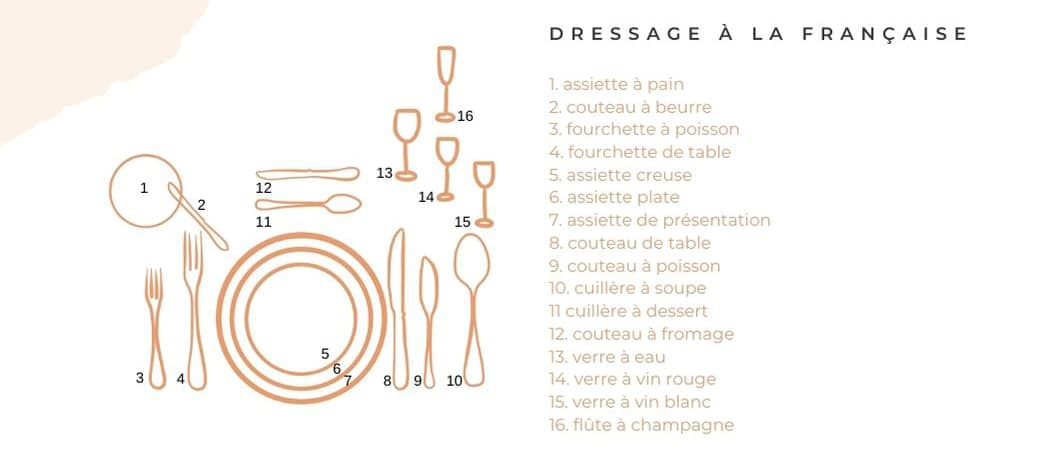 In addition to this diagram, there are a few rules to follow:
- leave at least 30cm between each guest
- each guest should be approximately 60-70cm wide
- the spoon should be on the side with the bulge at the top
- the edge of the knife should be on the side of the plate
- the tines of the fork should be against the table
Tips for organising your wedding meal
Your caterer has been selected and the menu has been drawn up. You have decided on the ideal table layout to suit the number of guests and the venue. The crockery and decoration are in perfect harmony. There's one point that can be tricky to work out: how much to drink.
It's not always easy. Fear of running out, lack of information about your guests' habits, etc. Defining the quantity of drinks to plan for can be a complex task.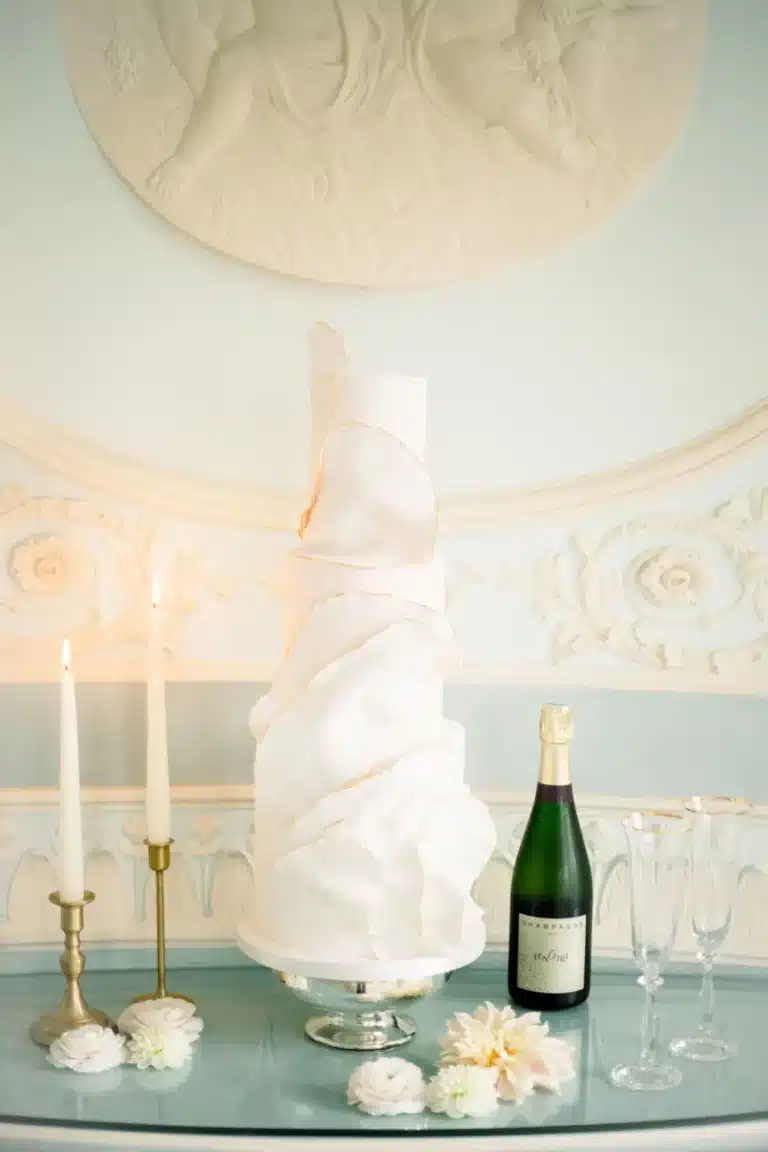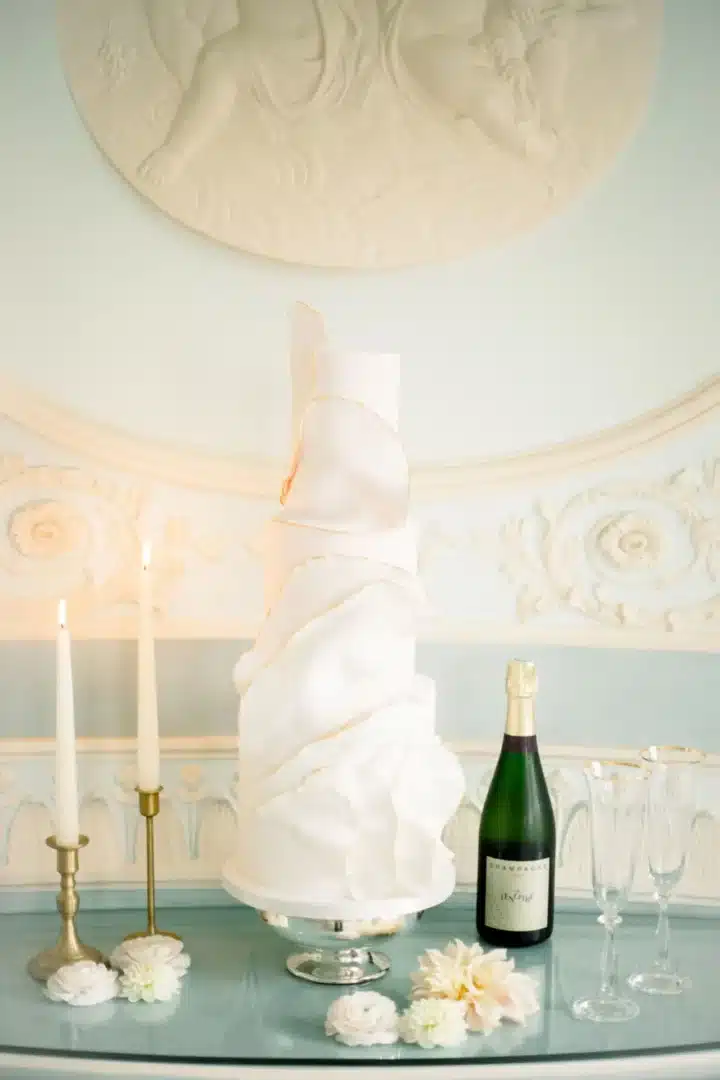 Photographe : Daria Lorman Shooting inspiration organisation Atout Coeur Wedding
The first thing to note is that it's better to plan too much than too little. Unlike food, which is more fragile, drinks can be stored easily. 
Secondly, remember to include the vin d'honneur and the following day's meal(s) in your calculations and, conversely, to exclude people who do not drink alcohol when buying your bottles of wine and champagne.
Here Are a Few More Tips on This Subject That Will Be Useful When Organizing Your Wedding Meal: 
Number of glasses of champagne per person

: 2 for the vin d'honneur (or 1 glass + 1 glass of Sangria or other alcoholic beverage) + 1 for dessert.

Number of glasses of wine per person

: 1 for the starter + 2 to 3 for the main course

For water

plan on around 7 glasses per person over

the course of the day (4 still water and 3 sparkling water).
With all these assets in hand, the organisation of your wedding meal is sure to be a real success, and our team remains at your disposal to help you with your tailor-made wedding preparations.