A rather exceptional practice so far, organizing a micro wedding is back in the spotlight, and is even necessary during these uncertain times.
It is true, the complex times we're dealing with at the moment isn't very adapted for family reunions and big events. Engaged couples have to juggle with different legal pressure. Right now, family gathering in big numbers aren't recommended. Even more, the number of authorized people in town halls depends on the size of it and regional restrictions.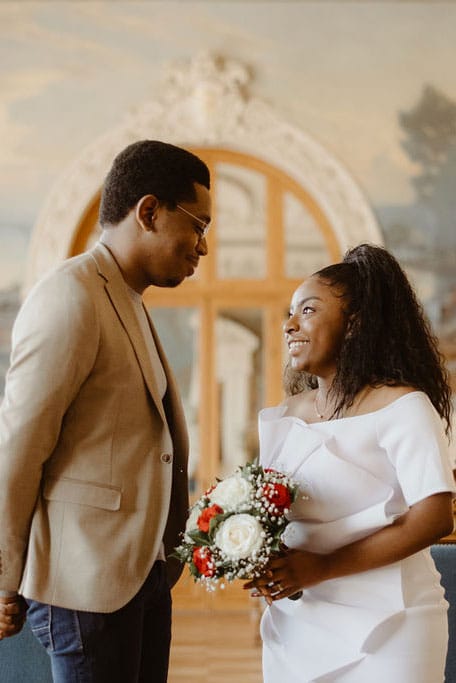 photo : Angela Di Paolo
But still, we need to remember that this extraordinary crisis is existing for more than a year now. Some couples have had to reschedule many times to find the right date for their ceremony and don't want to wait anymore. It is primordial to find a solution to be able to become one in the best conditions. Getting married is supposed to be a moment of happiness and serenity and it is our place to guarantee it will be. In this way, organizing a micro wedding seems to be the perfect alternative.
The advantages of a micro wedding.
Beyond respecting the rules linked to the situation,a micro wedding is an option which offers many advantages.
It will never be said enough but, a wedding is a true whirlwind whiwh will carry you during your day. Our many years of experience in organizing weddings are confirming it. The engaged couples are always repeating that the day goes by real fast. And, sometimes, they have the feeling that they couldn't really enjoy their time with their guests.
One of the advantages of the micro wedding is to be able to really connect with people. With twenty or thirty guests, you'll have time to give each and every guest time, and share emotion with them. They will be privileged witnesses of your special day and your bong will only get stronger. It gives your day a more solennel and authentic charm.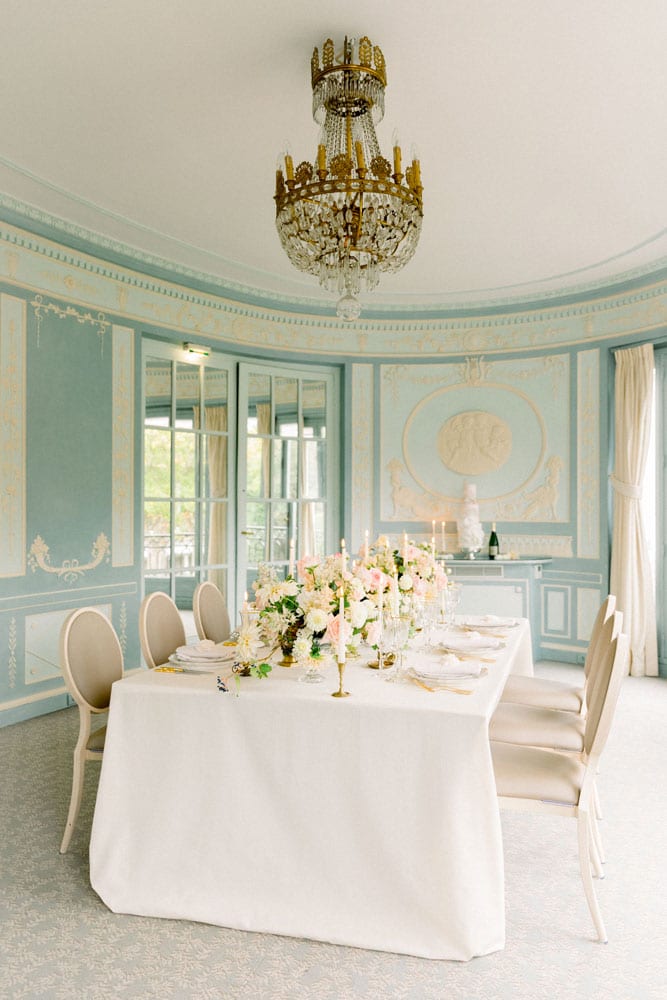 Photo : Daria Lorman
The intensity of the wedding is also explained by the accumulation of many projects in one:
– to officialize your love by respecting traditions and protocols and by following a precise schedule during the day
– create beautiful memories with your relatives in a magical place wearing stunning outfits
– but also have fun and enjoy the party with your friends
Micro wedding allows to cut this day in half. First, you and your wedding planner will organize a wedding at your image, in small group. You will then take time for each element of the visual aspect of your wedding (decoration, tables, outfits…) and details. With a reduced list of guests you will see later in this article that you will be able to see things big and make your dream come true..
Then, secondly, you'll organize a more festive and less formal day. Once the situation is more safe, you'll be able to gather friends and family in a convivial atmosphere.No official ceremony, no car rides to organize between different places.. In summary, a 100% festive moment that will be lighter and will allow you to enjoy and take full part of the whole day and not just the evening.
What is the difference in the organization ?
On paper, there isn't a real difference between a classical wedding with 100, 200, 300 guests and a micro wedding.
Your wedding planner will focus on the same steps. He/she will look with you to find the best service providers according to your desires. He/she will organize all your appointments and will accompany you to your dress trials and wedding cakes testings.
As for all weddings, you will be able to exchange at every step with your wedding planner to create your perfect day. Nothing changes so far compared to all our wedding planner agency.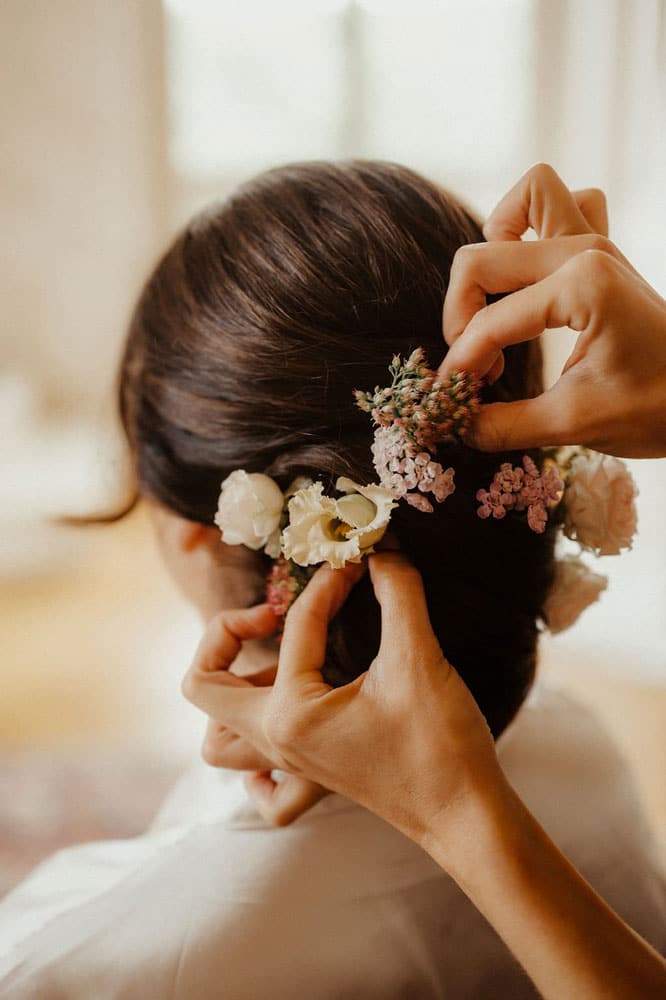 photo : Angela Di Paolo
The major difference is that another day is to be organize after. Even if the micro wedding allows you to enjoy being with your relatives, you might want to celebrate your love with a larger circle of people.
Your wedding planner can also take care of it. It is recommended to group demands of services to the same service providers. It presents several advantages. Therefore, the host of you micro wedding will know you well enough and will know how to find the right words during the party with your friends. Your caterer will know your taste and wishes and will be able to offer you more easily a menu for your second reception. It is also most likely that by booking services from services provider for both events will give you a nice price offer. Your wedding planner will help you on this part.
It is also possible to include a non-religious ceremony during the day. You will then celebrate your love once again in front of your friends. Our dedicated option includes everything that is necessary to create an unforgettable moment.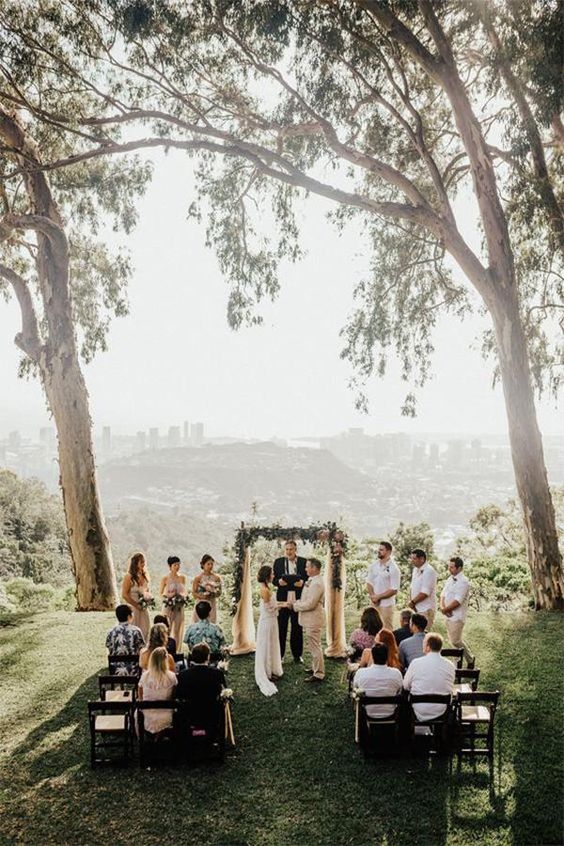 photo : Lindsay Roman
What if organizing a micro wedding also means seeing things big ?
Paradoxically, organizing a micro wedding can be synonymous with a spectacular organization.
With the decoration for example the wedding inspired shootings often offer beautiful settings on tables for 6 to 8 people. But reproducing them to a big scale can be to complicated or expensive. You are then forced to make choices by privileging less expensive materials or just by reproducing only a part of the decoration.
By reducing the number of guests to twenty or so, you'll be able to enjoy every detail. With only, 2, 3 or 4 tables to decorate, you'll be able to pick your favorite flowers, invest in pretty crockery and high quality tablecloth. Concerning your menus and seating mark, it will be possible to call talented artists to create tailor made decoration.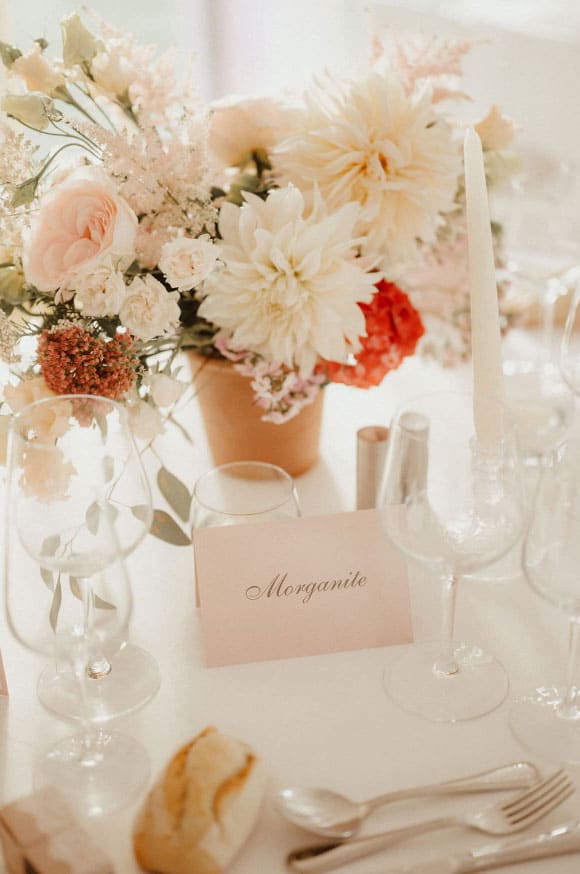 photo : Angela Di Paolo
Regarding the presents for you guests,you'll be able to mark the minds by buying less anecdotal presents than the one we would buy for 100 or 200 guests. Think about personalizing them too. With a reduced list, it is possible to think about presents with names on them. If you're looking for ideas for presents for your wedding,you can find our article dedicated to the subject.
We know it, the place for the wedding makes a big impact in the global budget of the wedding. Organizing a micro wedding also means reducing this part. You will be able to get a mort intimate place, with a smaller budget. The money that will be left can then be used for other domains.
And we have ideas for this as well:
– push further in the personalization of the place and its decoration according to your taste (yes we can see you dreaming of a massive chandelier suspended on top of the guests of honor's table! )
– rent a more luxurious car to drive you to town hall
– go for that princess dress your dream for
– or even ask for a gastronomic caterer for your menu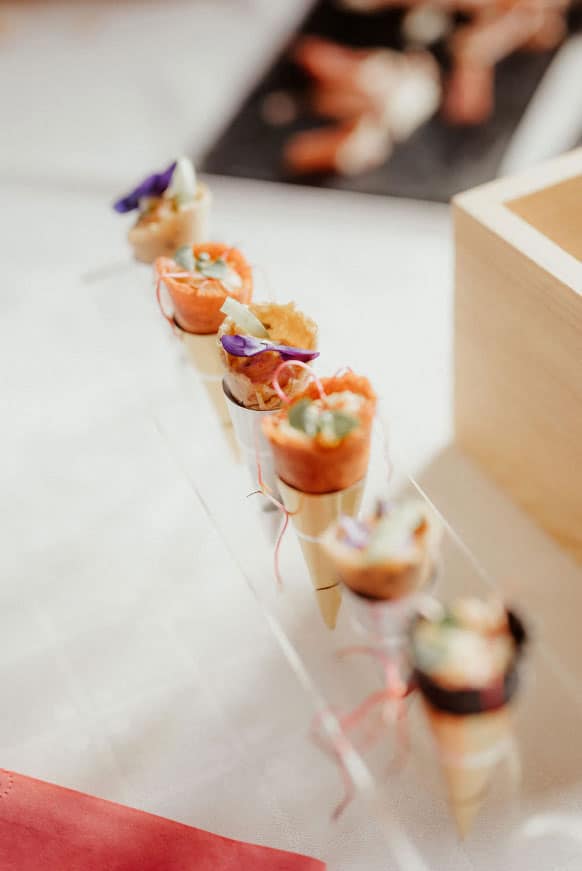 photo : Angela Di Paolo
Organizing a micro wedding, more than just a trend
You probably get it now, far from stopping you, the micro wedding turns out to be quite the perfect alternative. Being able to enjoy every detail of the decoration, to surround yourself with your close ones, to take time to be together… and to know that a more festive day is ahead of you months later.. wouldn't it be the key to happiness ?
Some couples were forced to change for a micro wedding. They weren't disappointed at all ! On the contrary, the married couples realized the advantages of a small wedding. They can be more demanding on decoration and details. The choice of an intimate place can surprise you and gives a more welcoming atmosphere. The conviviality is even more present, everyone talks to everyone and enjoys the married couple.
More and more couples spontaneously go for a micro wedding. We know this for a fact, it is more than a simple alternative linked to the situation we're facing, it is a new way to consider the wedding. A micro wedding allows to create a tailor made ceremony, luxurious and high quality. And we can't wait to write these pages with you.