For your big day, you'll have more than one choice about everything. The menu, the dress, the suit, the rings… As many possibilities to define you and show what you like. Floral decoration isn't an exception.
Let's explore floral trends together for 2022-2023.
How to pick flowers for your wedding
As you know, a wedding has to be prepared in advance. Organisation is our mantra and sometimes even, we have engaged couples calling us one or two years ahead.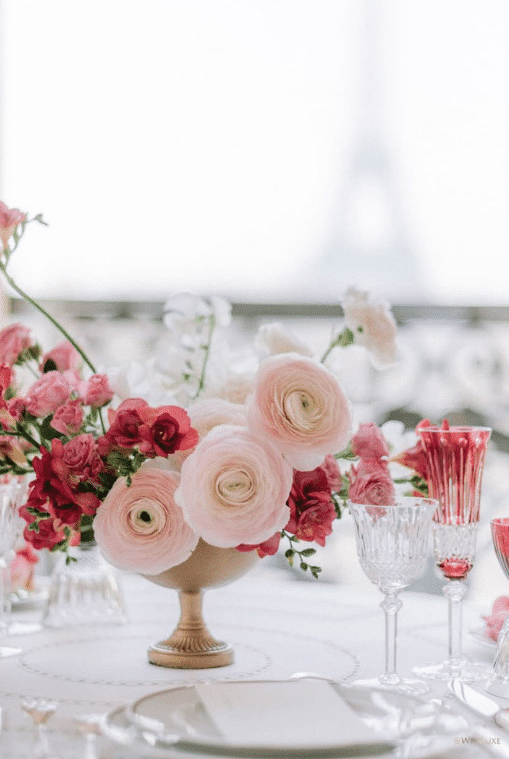 Photo : Jeremy Froeliger for Atout Coeur Wedding
Therefore, we have to be ready for any tendency to come and keep an eye open. The choice of flowers will first come from your personal taste. If you go for a pastel theme, you won't choose the same elements of decoration than for an autumnal theme. And it is the same for the flowers. Colors and appearance will guide your choices.
Season can also be a strong element for the decision. Just like fruits and vegetables, flowers grow according to special climatic conditions. In Winter or Summer, you won't have access to the same variety of flowers.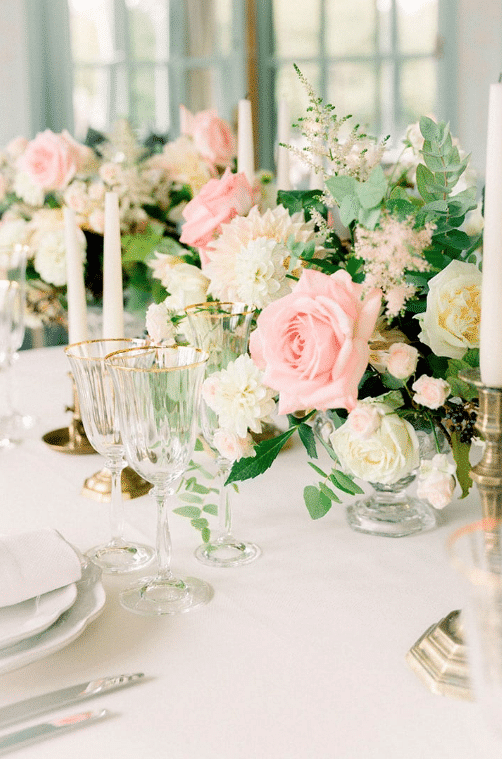 photo : Daria Lorman for Atout Coeur Wedding
Our pieces of advice to choose your floral decoration
Our two best tips to pick your flowers for your wedding ?
First thing first, you can read our last article dedicated to the choice of flowers for the big day. We already put a few ideas, tips and inspirations for this important step.
Our second tip is for you to surround yourself with professionals in the subject. Florists and floral designers will become your best allies. They will know how to translate your desires and ideas into floral creations adapted to your venue. Their experience will allow you to choose between different varieties of flowers and greenery according to your theme and season. They also might offer you original shaping of which you wouldn't have thought of.
Even if the control of elements is a key to organising a wedding, sometimes, letting yourself be surprised is part of the magic.
Your wedding planner will dazzle you with a spectacular or confidential venue. Your caterer will surprise your taste bud by one of his signature meal. Your floral design will submit a theatrical arrangement which will dazzle your guests or even more, make you discover a variety of flower rare and splendid.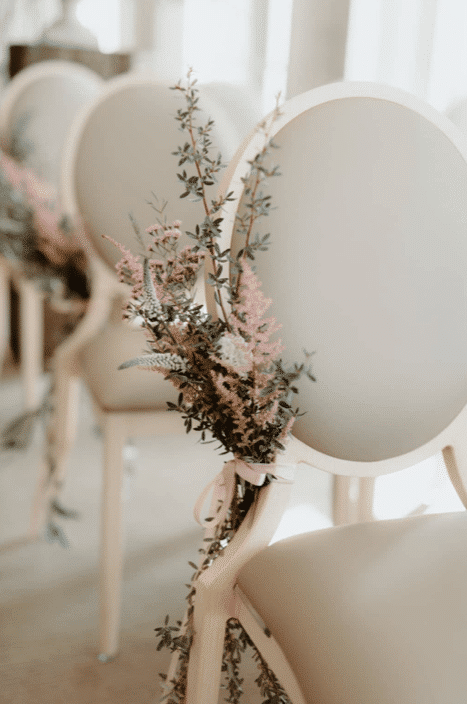 Photo :  Angela di Paolo for Atout Coeur Wedding
Floral trends for your wedding
Numerous ways of putting flowers into your wedding exist. The bouquet of the bride, the groom's buttonhole, arrangement of the table, in the alleys…
For each of these, tendencies evolve and new forms and assembly appear.
Decoration of the alleys
Whether it is for a non-religious ceremony or at church, the decoration of alleys are back in the spotlight. Beyond the decorative effect, flowers really accompany the arrival of the guests and the newlyweds. They can form a path to guide the guests towards the theme of the day. It marks the tone.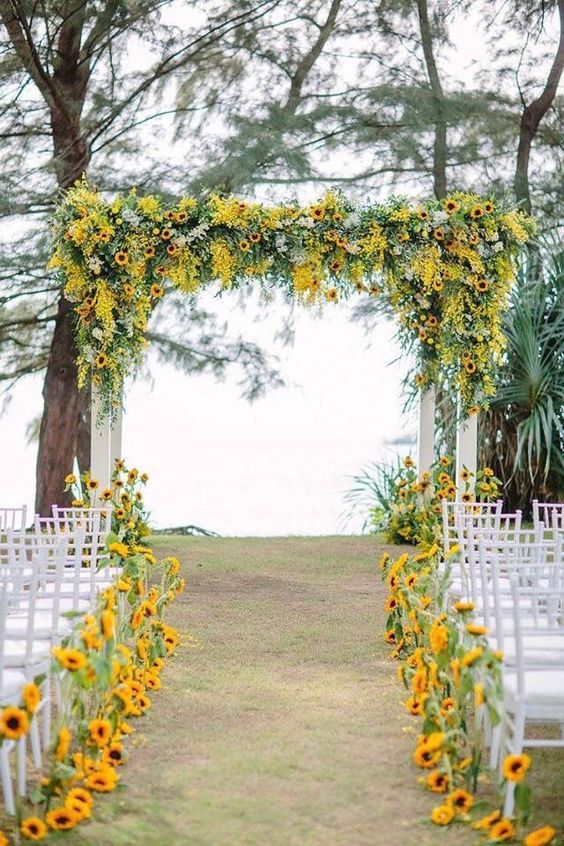 source Pinterest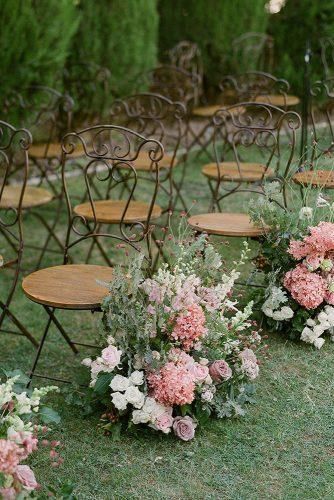 source : Wedding Forward
Theatrical suspensions
Among the trends we've been keeping an eye for lately, we particularly like theatrical suspensions.
This suspended arrangement can be put in different places according to your venue and how the day goes through. Usually, we put it on top the the honor table. This way, the guests can enjoy it during the meal and even all night long when the dancefloor is in the same room as your tables.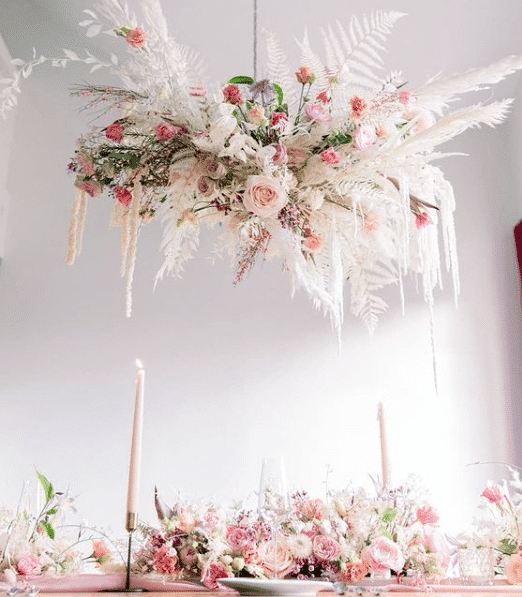 Photo : Daria Lorman – Floral design So Art' Floral
But, it is also possible to put this floral design in the room dedicated to the non-religious ceremony. At the center of this one or when the arch is. It presents itself as a modern alternative which will have a big impact for sure.
It is this element that we've decided to add to our spot at the wedding salon 2021.To be able to create this suspension, we've decided to trust Stéphanie, a.k.a So Art' Floral. She knew how to put our wishes into a spectacular arrangement.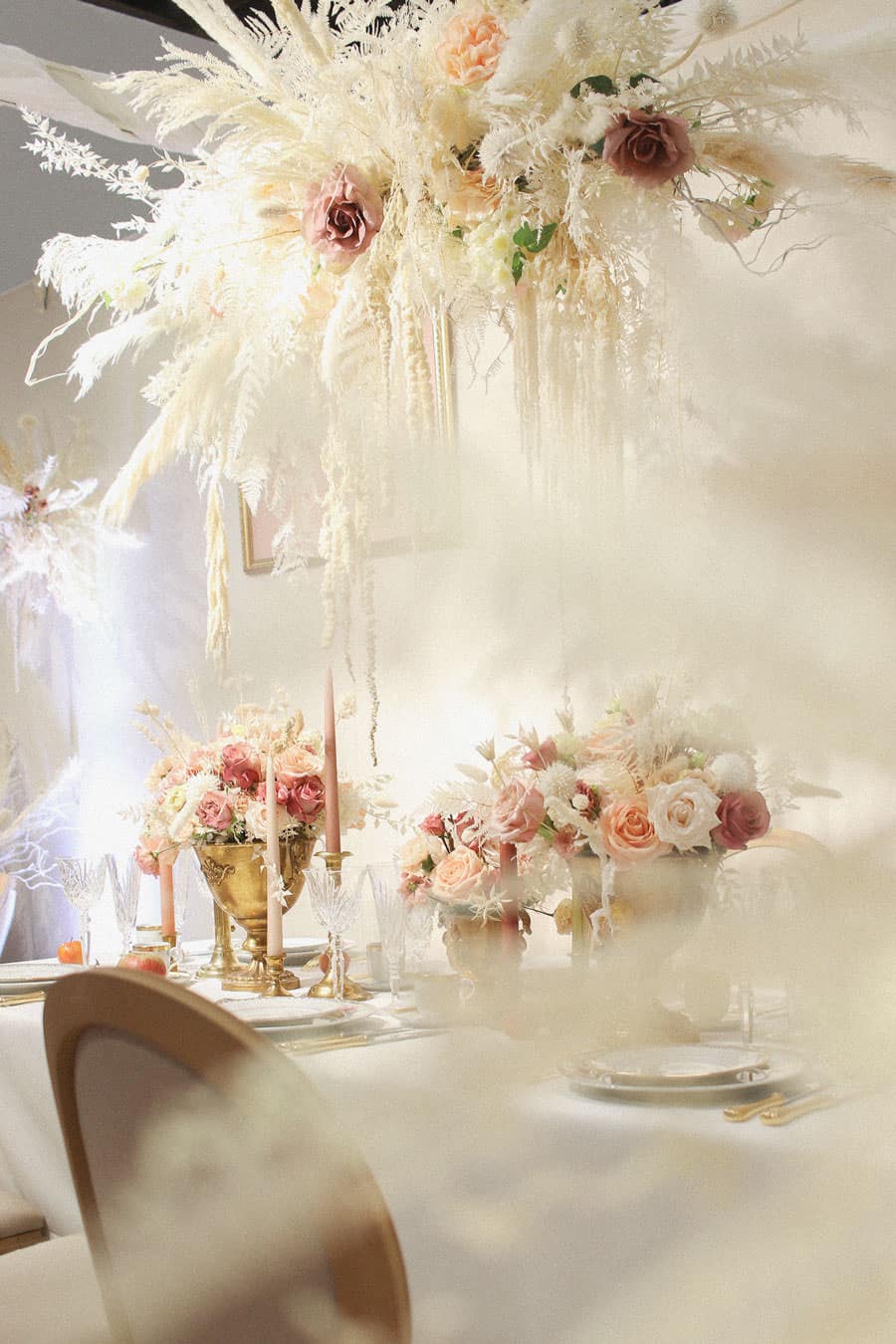 Atout Coeur Wedding wedding salon 2021 – floral arrangements : So Art' Floral photo : Sophie Valenza
We chose this occasion to ask her a few questions about floral trends for weddings. Stéphanie is sharing tips about how to pick flowers for your wedding and speaks about So Art' Floral .
How was So Art' floral born ?
So art floral was born by the meeting of two people in Africa, Stéphanie and Ousmane, plants and flowers' lovers, who were dreaming about offering luxury floral services, which didn't exist then. The first hop was created in 2020 in Ngaparou in Senegal and then quickly a second one opened in Saly.
With a lot of experience, they went back to France to develop a special service in floral design for luxury events.
How do you work with engaged couples ?
Usually, I have a first meeting with them or their wedding planner and we talk about the different elements, colors, style of decoration they want.
Following this first meeting, I create a moodboard filled with inspirations and I give the first key numbers.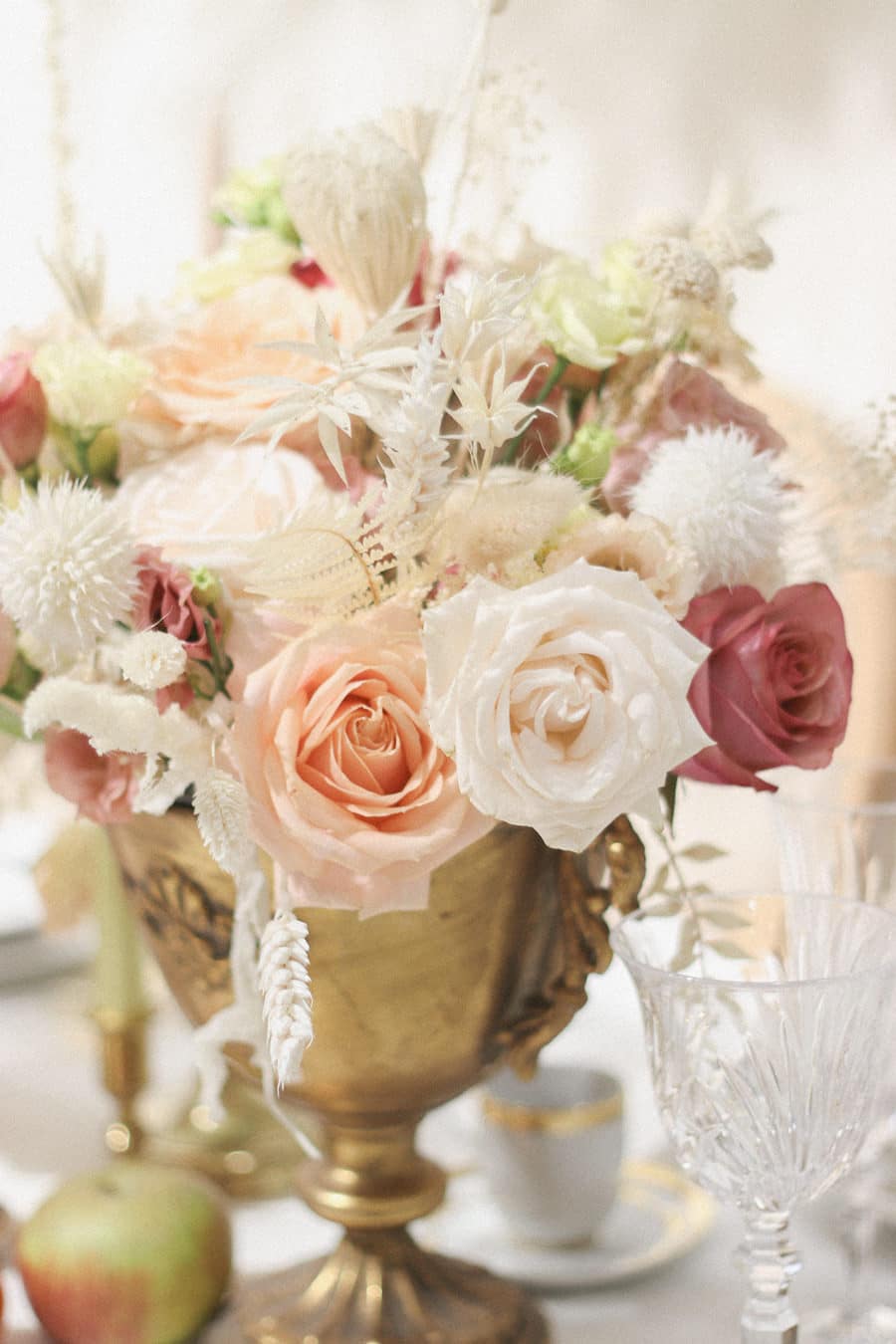 Atout Coeur Wedding wedding salon 2021 – floral arrangements : So Art' Floral photo : Sophie Valenza
What are the floral trends that you think are getting bigger ?
It seems that the actual trend is about bright colors. We're getting away from this past few years' trend which was pastel colors and I'm glad we are.
Your most memorable memory of a wedding ?
This summer, the newlyweds and their family asked me to decorate their whole garden for the wedding reception.
It was a huge challenge because in three months, I had to bring more than a hundred plants, which we're supposed to look good for the wedding day and in the color range chosen by the couple.
Everything was made to look good together.
It was, no doubt left, one of my biggest challenges. A really interesting and stimulating project.
Any projects to come for So Art' Floral ?
Soon, I will have to create a decoration for a wedding that will take place in the Palace Le Bristol in Paris, one of Atout Coeur Wedding's partners.
They are an American couple and are coming with their family and friends to create an exceptional ceremony in Paris.
The ceremony, intimate, will take place in the garden and the reception in the great lounge.
They're wishing for a luxuriant floral design to create a « wow effect".
It is very exciting for me, and important for the couple to be happy on their big day.
There is an emotional aspect to decorating for a wedding which I enjoy very much. Nothing is more pleasing to me than receiving messages from the couples thanking me . They're nothing me rewarding.