Bringing family and friends together is not always easy. In the whirlwind of our fast-paced lives, there are few opportunities to have all the people who matter around you. Christmas Eve and the wedding are two such occasions. So why not combine these two moments by organising a Christmas wedding.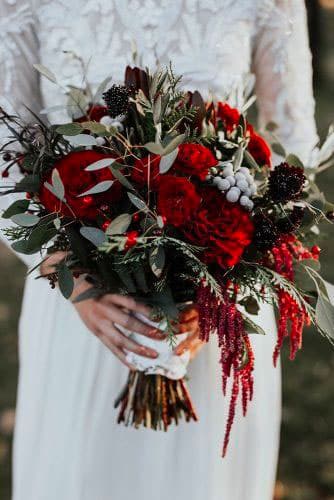 source image : weddingforward.com
Getting married in winter
We're not telling you anything new: most weddings take place in fine weather. Spring and summer are the most popular seasons for future brides and grooms. The prospect of being able to organise part of the festivities outdoors is very appealing. Cocktails in the garden, children free to run around... these are just some of the positive aspects that appeal to brides and grooms. Autumn, meanwhile, attracts with its warm colours and temperatures that are still mild in some regions. But winter remains an option that can hold some wonderful surprises in store. Add to that the magic of Christmas, and you have the most enchanting picture ever.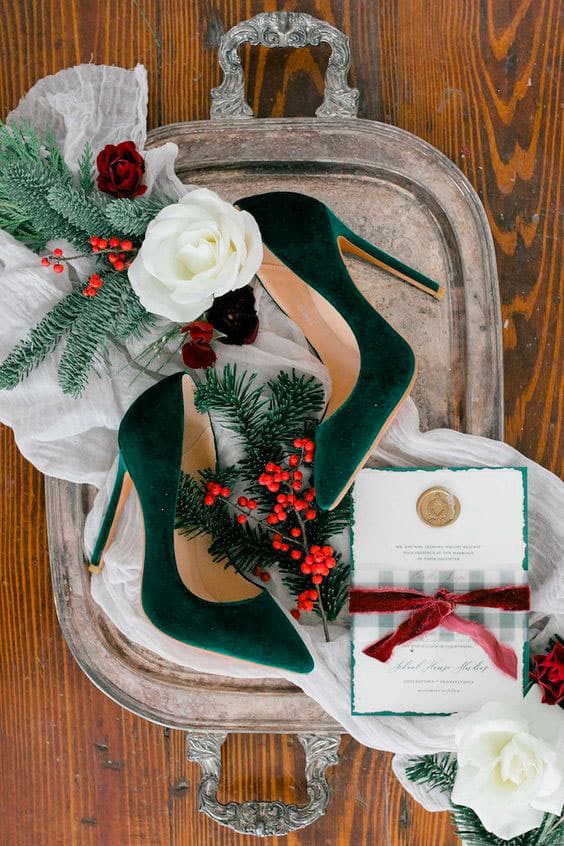 source image : inspiredbythis.com
To make the most of the season, why not choose a destination in the mountains? The snow-covered peaks will provide the perfect backdrop for saying "I do" . In winter, it is advisable to organise the entire festivities indoors. But for those of you who are not so keen on the cold, an outdoor ceremony is also an option. You can provide your guests with blankets to keep them warm during the ceremony. Nomadic heating systems can also be set up under a large arbor to create a warm atmosphere around you and your guests.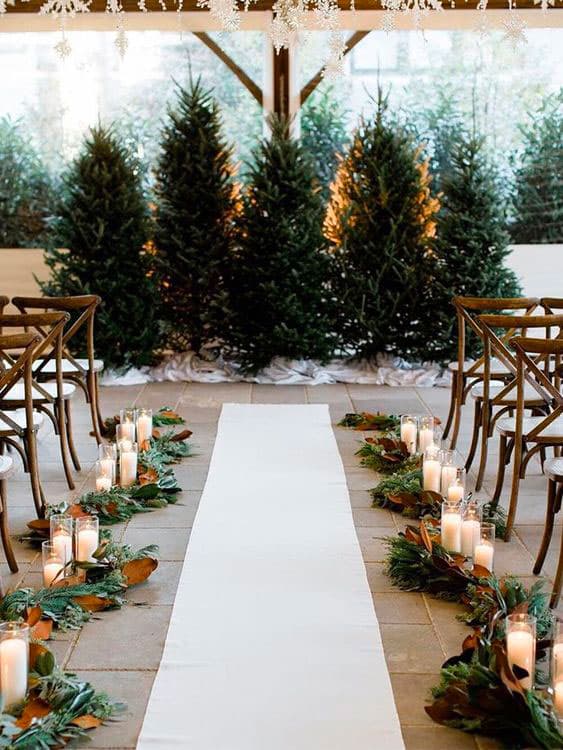 source image : elegantweddinginvites.com
Decorations worthy of a Christmas wedding
The advantage of choosing Christmas for your wedding is the wealth of decorating options available to you. White Christmas, traditional Christmas, Scandinavian Christmas... A whole range of styles in which you're bound to find an atmosphere that suits you.
Your dinner table can be adorned with candles and natural elements such as fir branches or pine cones. You can play with warm materials like velvet and linen and an accumulation of small details. A Christmas wedding lends itself particularly well to warm, luminous elements.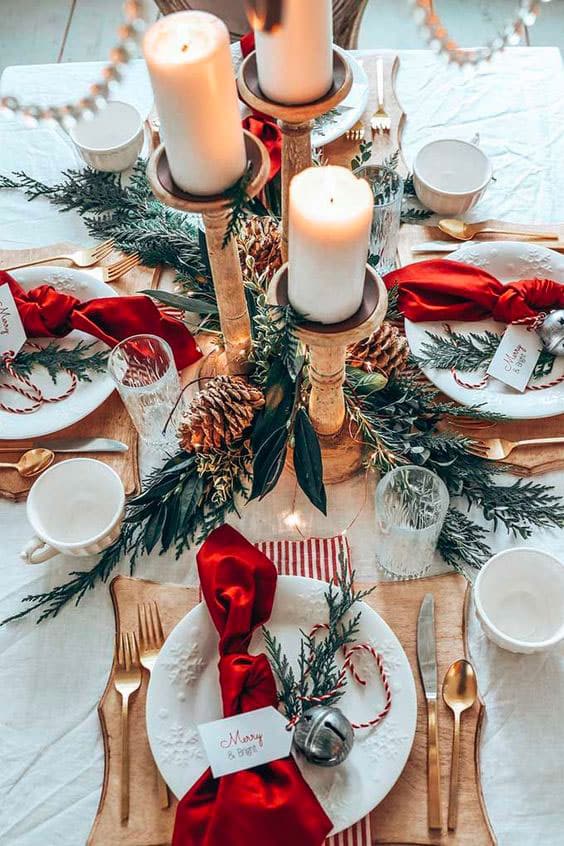 source image : pinterest
Lanterns and touches of light will look just as good on the table as they do in the aisle of the Town Hall, the Church or the venue for your secular ceremony. These areas can also be adorned with beautiful spruce and eucalyptus wreaths or large drapes to warm the atmosphere. The centrepiece that can change everything? A fireplace sitting proudly in your reception room. A Christmas wedding by the fire- what better way to spend a wonderful time with family and friends?
source image : lindsayplankevents.ca
Christmas wedding inspiration
As mentioned above, getting married at Christmas means you can choose from a wide range of decorative styles.
Our favourite is the traditional Christmas colour: a mix of red and green. A touch of tartan, beautiful candles and fir branches... everything we love ❤️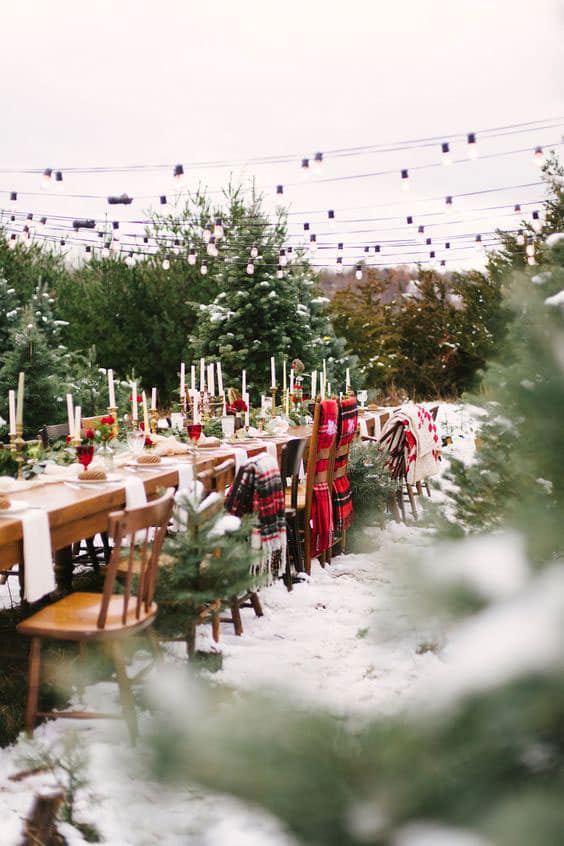 source image : ruffledbolg.com
Another key piece to install in your reception room is the Christmas tree! It's sure to be a big part of your decor, and if you choose a tall one, it'll be the highlight of your setting.
source image : hitched.co.uk
Why not also match your outfits to the season. Inspired by American traditions, for example, plan an identical dress for your bridesmaids. Red velvet would be perfect for a Christmas wedding.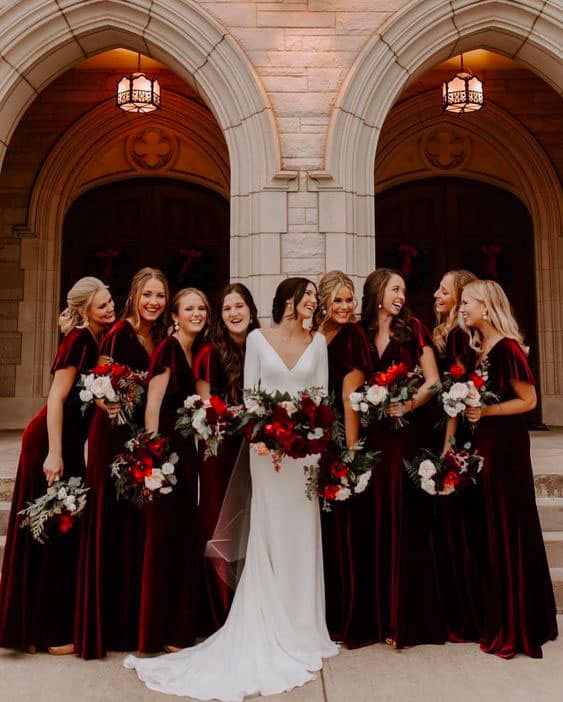 source image : brides.com
Still need more inspiration? Visit our Pinterest board dedicated to Christmas weddings. You're sure to find some great ideas for organising your big day.